Ukraine war: Finland and Sweden 'meet every NATO requirement', says Biden as he meets leaders
Comments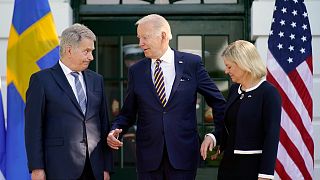 -
Copyright

AP Photo/Efrem Lukatsky
The Ukraine war has now entered its 84th day. Thousands of civilians and soldiers have been killed, while millions of Ukrainians have fled their country. Fighting inside the country continues to rage. 
See a review of Thursday's updates on the Ukraine war in the blog below.
05.19.2022
14:42
Is Olaf Scholz right to say Ukraine's EU membership should not be fast-tracked?
05.19.2022
08:13
Thursday's key points 
President Biden has welcomed the leaders of Sweden and Finland to the White House, hailing their applications to join NATO.
This comes despite opposition from Turkey. President Erdogan said on Thursday Ankara will reject the Nordic countries' membership claims.
The US Senate overwhelmingly approved nearly $40 billion (€37.8 billion) in new aid for Ukraine on Thursday, as well as an extra $100 million (€94.5 million) in military equipment.
G7 finance ministers meeting in Germany agreed on Thursday to provide Ukraine with $18.4 billion (€17.6 billion) to pay its bills. 
Prosecutors asked for a life sentence for Russian soldier Vadim Shishimarin, 21, during the first war crimes trial in Ukraine. He asked for 'forgiveness' from the widow of Oleksandr Shelipov, the unarmed man he has pleaded guilty to shooting dead.
Moscow says it will only consider opening Ukraine's Black Sea ports for food exports if sanctions against Russia are reviewed. The UN has warned the Russian blockade threatens to bring mass hunger and famine.
Russia says 1,730 Ukrainian fighters from the Azovstal steel plant in Mariupol have surrendered since Monday. The Red Cross worked to register the soldiers as prisoners of war.
German Chancellor Olaf Scholz has said he is not in favour of granting Ukraine a "shortcut" to join the EU, echoing comments by France's President Macron. Kyiv has blasted "second-class treatment" and "strategic ambiguity" that "emboldens Putin".
European lawmakers have moved to boost Ukraine's war-torn economy by suspending import duties from the country. 
MEPs have also passed a resolution calling for former German Chancellor Gerhard Schröder to be blacklisted over his refusal to cut ties with Russia.
05.19.2022
22:58
That's all from our live blog for tonight. Join us again from 0600 CET on Friday for more updates on Russia's war on Ukraine.
05.19.2022
22:57
'The Russians are running': Meet Ukraine's southern frontline soldiers
Ukrainian officials gave Euronews' international correspondent Anelise Borges permission to take a glimpse at the frontlines.
A battalion of over 500 men trying to retake Kherson after spending three months containing Russia's incursion around the city.
Watch Anelise's report here:
Euronews International Correspondent Anelise Borges met up with a frontline battalion trying to retake the city of Kherson from Russian control.
05.19.2022
22:44
US Senate approves $40 billion in new Ukraine aid
The U.S. Senate overwhelmingly approved nearly $40 billion in new aid for Ukraine on Thursday sending the bill to the White House for President Joe Biden to sign into law as Washington races to keep military assistance flowing nearly three months after Russia's invasion.
The Senate voted 86-11 in favor of the emergency package of military, economic and humanitarian assistance, by far the largest U.S. aid package for Ukraine to date. All 11 no votes were from Republicans.
The U.S. also announced a shipment of $100 million (€94.5 million) in military equipment to Ukraine, separate from the $40 billion approved Thursday by Congress.
The latest package includes 18 more howitzers as well as anti-artillery radar systems, both of which the U.S. has provided to Ukraine already since Russia invaded Ukraine on Feb. 24. Pentagon press secretary John Kirby said the equipment will be in the hands of Ukrainian forces "very, very soon."
With this latest shipment, the U.S. has provided nearly $4 billion in military aid since Feb. 24 and $6.6 billion since 2014, when Russia seized and annexed the Crimean Peninsula from Ukraine.
Kirby said the U.S. will consult with Ukraine, as it has frequently since the invasion, about what it needs in terms of equipment.
(Reuters, AP)
05.19.2022
22:32
Ukrainian troops surrendering at Mariupol registered as POWs
Hundreds more Ukrainian fighters who made their stand inside Mariupol's bombed-out steel plant surrendered, bringing the total to over 1,700, Russia said Thursday, amid international fears about the fate of the prisoners in Moscow's hands.
The Red Cross worked to register the soldiers as prisoners of war in a step toward ensuring their humane treatment under the Geneva Conventions.
Read more here, and watch Euronews' Anelise Borges reporting from Ukraine on the situation on the ground in the video player:
Ukrainian fighters in the last bastion of resistance continued abandoning the Azovstal steel plant on orders from above to save their lives.
05.19.2022
17:36
Biden meets leaders of NATO aspirants Finland and Sweden 
President Joe Biden on Thursday welcomed the leaders of Sweden and Finland to the White House, as he hailed the applications of the once-neutral countries to join NATO.
Biden greeted Prime Minister Magdalena Andersson of Sweden and President Sauli Niinistö of Finland at the White House as they met for trilateral conversations on the NATO mutual defense pact as well as broader European security concerns.
His administration has professed optimism for their applications to join the alliance, which would mark a significant embarrassment to Russia, despite continued opposition from Turkey.
"They meet every NATO requirement and then some," he said. "Having two new NATO members in the high north will enhance the security of our alliance."
Russian President Vladimir Putin has demanded that the alliance stop expanding toward Russia's borders.
Several NATO allies, led by the United States and Britain, have signaled that they stand ready to provide security support to Finland and Sweden should the Kremlin try to provoke or destabilize them during the time it takes to become full members.
(AP)
05.19.2022
16:44
MEPs demand sanctions on Schröder over Russian ties
MEPs have passed a resolution calling for Gerhard Schröder to be blacklisted, in a non-binding but symbolic vote.
The former German Chancellor became deeply linked to Russia's state-owned energy companies after leaving office and his close relationship with Vladimir Putin has also been a source of controversy.
Unlike other politicians he has refused to sever his ties, saying "I don't do mea culpa".
More from Jorge Liboreiro of Euronews Brussels Bureau:
Gerhard Schröder still holds positions at Rosneft, Russia's leading oil company, and Nord Stream AG. #EuropeNews
05.19.2022
16:18
Ukraine FM blasts 'second-class treatment' after Scholz EU comments
This was Dmytro Kuleba's response on Twitter after German Chancellor Olaf Scholz poured cold water on Ukraine being given a "short-cut" to European Union membership.
The German Chancellor said giving Kyiv quicker access would be unfair on countries in the Western Balkans, who have been waiting years to join.
05.19.2022
15:51
Ukraine says Mariupol evacuation continues but gives no details
A Ukrainian general said on Thursday the evacuation of Ukrainian troops from the city of Mariupol was continuing but provided no details.
"In the Mariupol direction, measures are being taken to evacuate our heroes," Oleksiy Gromov, Deputy Chief of the Main Operational Department of the General Staff of Ukraine's Armed Forces, told an online briefing.
Moscow said on Thursday that 1,730 Ukrainian fighters had surrendered in Mariupol over three days, including 771 in the past 24 hours. If true, this represents a surrender on a far bigger scale than Kyiv has acknowledged.
The Ukrainians face an uncertain fate after Moscow sent them to a penal colony.
(with Reuters)