Strictly off limits: how Guadeloupe is protecting its tropical paradise?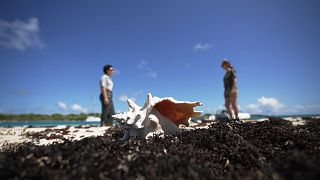 Scientists in Guadeloupe are conducting a study to find out the best way to protect the tropical paradise of Petite Terre. The two islands, which are strictly controlled, are areas of outstanding natural beauty. The project to protect the reserve is partly funded by the European Cohesion policy. 
Scientific officer Léa Sebesi knows Petite Terre well. She helps police the islands for the Titè Association, which jointly manages the reserve with the National Forest Office (Office National des Forêts)
"We have about 200 people who come here everyday. Most are accompanied by tourist service providers, who have to meet a set of requirements to be able to come to Petite Terre. There are also those with boats. They are subject to regulations implemented on the reserve. So it's part of the wardens' job to carry out surveillance, and sometimes to issue fines when necessary," she says. 
In terms of restricting access, she adds: ''Here we are on Terre de bas and just behind is the island of Terre de haut. It is completely closed to the public to preserve certain species of birds that come to nest and also the native Lesser Antillean iguana population, which is on Terre de haut.''