Teachers should not be forced to get vaccinated, union warns
Comments
By Euronews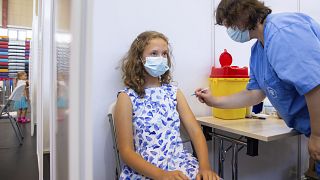 -
Copyright

Raul Mee/Copyright 2021 The Associated Press. All rights reserved
European Union member states should not make vaccinations compulsory for teachers, according to one of the continent's largest teachers' unions.
Despite shots being widely available, Susan Flocken, director of the European Trade Union Committee for Education (ETUCE), told Euronews that not all teachers have had theirs and that they should not be mandatory in any situation.
"Vaccination should always be voluntary. We shouldn't force vaccinations. It is important to have the offer to vaccinate and that was one of the main issues at the beginning [of the pandemic]," Flocken said.
With the European Commission announcing on Tuesday that more than 70% of adults in the bloc have now been fully jabbed and with vaccinations available for children over the age of 12, the situation now is in stark contrast to one year ago.
But with many people, including teachers and pupils, still unvaccinated, the situation is far from perfect.
Data from the European Centre for Disease Prevention and Control shows that only 12.1% of under 18 year-olds have had at least one dose.
Throughout the EU, however, the numbers are quite different. In Belgium, 23.6% of teenagers have been jabbed once. Meanwhile, in Bulgaria, the numbers drop to 0.5%.
Earlier this year, the European Medicines Agency approved both Pfizer and Moderna's vaccine for use in children over the age of 12, something that is expected to help with the return to school.
But Flocken says that, in terms of learning, things still won't return to normal for students just yet.
"Students will be struggling because they haven't reached the same level as they would usually. And of course, for teachers and the whole curriculum, it needs to be adapted to this situation and they will have to pick up pupils from different points," she told Euronews.