Talks over reform of EU agriculture end without agreement
Comments
By Euronews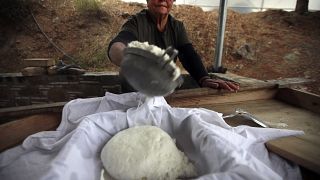 Copyright

Petros Karadjias/Copyright 2019 The Associated Press. All rights reserved.
Negotiations over the reform of the European Union's agriculture policy have ended without an agreement after two days of intense talks.
Discussions between all three EU institutions had been ongoing this week in Brussels to discuss the future of the Common Agricultural Policy (CAP), with the aim of reaching a consensus on the three regulations that make up the reform package - social conditionality, targeting of payments, and green architecture.
"No agreement on #FutureofCAP this week. We will continue to negotiate in good faith towards a #CAPReform. Solutions are there and there is a genuine willingness in all negotiators to find them," European Commission Vice President Frans Timmermans tweeted on Friday.
According to the European Council, progress was made in several areas, but due to the fact that a number of key issues remained outstanding, it was decided to postpone talks until the next meeting of agriculture and fisheries ministers in June.
Social conditionality, whereby CAP subsidies would be conditional upon farmers maintaining the required employment and working standards, is one of the main sticking points.
Trade unions point to how bad the situation is for millions of people working in the sector, including seasonal workers and migrants.
However, farmers' associations say this presents additional and unnecessary burdens.
"We fully respect the relevant legislation and the rules that are being put in place, but the link with the CAP is a problematic one for us and especially when it becomes conditional to the CAP payments," Pekka Pesonen, secretary-general of COPA COGECA told Euronews.
"We see it as an administrative burden for farmers and member states also. And it would in the worst case put a double penalty on farmers in the case of infringements. And we feel that this would be excessive."
But Kristjan Bragason, general secretary of the European Federation of Food, Agriculture and Tourism Trade Unions (EFFAT), rejects this notion.
"They [farmers' associations] even talk about new red tape, something that we do not like being presented that way because we are talking about already existing regulation. The only difference is that those who will not follow these regulations they should not be getting public funds. That's the only difference with the already existing system," Bragason told Euronews.
Sónia Melo has been working on Austrian farms with people like this for seven years, where she says the minimum wage of €7 an hour is far from being a reality.
"The major abuse is underpayment. It's that the minimum wage is not respected. So, normally it's paid at €4-4.50 an hour and even if this wage is paid, underpayment comes through other strategies," Melo told Euronews.
"And that would be deducting too much money that it is allowed for housing, for example, or for food or not paying overtime."