NATO starts troops withdrawal from Afghanistan, says alliance official
Comments
By Euronews with AFP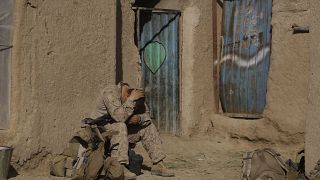 Copyright

David Guttenfelder/AP2010
NATO has begun withdrawing its troops from Afghanistan, according to an alliance official, after nearly 20 years of war.
The staff member, speaking on condition of anonymity, told news agency AFP it had started to bring troops back on Thursday.
"The withdrawal has begun. It will be an orderly, coordinated and deliberate process. The safety of our troops will be a top priority every step of the way and we are taking all necessary steps to secure our personnel," the official said.
"Any attack by the Taliban during the withdrawal will be the subject of a vigorous response."
Earlier this month, US President Joe Biden said that all troops would return by September 11 this year -- the 20th anniversary of the attack on the World Trade Centre -- pushing back a deadline of May 1 for complete withdrawal, which his predecessor Donald Trump originally agreed.
But the Afghan government fears the worst once NATO finally pulls out, with the country's national security adviser, Hamdullah Muhib, saying the country risks returning to civil war.
Mir Haider Afzaly, an Afghan MP, told Euronews his government will have to be open-minded if it is to broker a deal with the Taliban.
''Without flexibility, it will be impossible to reach a peace deal with the Taliban," Afzaly said. "But there are some points and some red lines that Afghanistan's people are not ready to negotiate or deal on those red lines. Those red lines can be: Afghanistan's defence and security forces, human rights, women's rights, freedom of speech and the media."
Over the years, the EU has provided Kabul with crucial infrastructure support for the reconstruction of Afghan society, including strengthening its security and law enforcement agencies.
This is in large part due to the stability of the embattled country, which is still relevant to the bloc's own security. It is also why Brussels wants to maintain some political influence once NATO forces withdraw.
"The military force will be replaced by political support. And the Europeans, along with their allies, will have to establish similar conditions," Belgian MEP Maria Arena told Euronews. "If the financial support is to continue, then Afghanistan must comply with democracy as a condition."
But it will be an impossible task to maintain stability in Afghanistan without the consensus of countries in the region.
The EU will need to make huge diplomatic efforts to cooperate with neighbours, like Pakistan and Iran, that have allegedly sponsored the country's more aggressive factions.
According to Shada Islam, an analyst from the College of Europe, the bloc should focus more on preparing for a new wave of migrants from Afghanistan.
"I foresee, unfortunately, for the Afghan refugees that will have to leave their homes, there will be another influx of refugees into Iran, from there into Turkey, and from Turkey into the EU. 
"So, I think that the EU should start now preparing settlement camps and humanitarian aid," Islam told Euronews.