MEPs vote for 'mandatory' lobbying register - but critics say it doesn't go far enough
Comments
By Euronews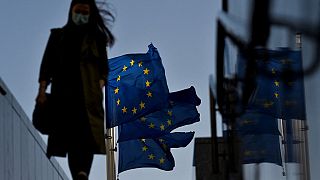 -
Copyright

JOHN THYS/AFP or licensors
MEPs have voted to reinforce a list used to register meetings between lobbyists and EU officials that will apply, for the first time, to all three institutions, but critics say it doesn't go far enough.
The newly strengthened Mandatory Transparency Register aims to make public, activities that influence the decision-making processes or legislation at the European level.
These activities can include organising meetings or events, contributing to public consultations, communication campaigns, and preparing position papers or amendments. Interest representatives will have to declare the interests and objectives they promote, as well as specify the clients they represent. All registrants will need to provide information on the resources that they devote to interest representation activities, with a new focus on sources of funding.
But some activities will remain possible without registration, such as spontaneous meetings, providing information at the request of the institutions and legal advice.
This is where Transparency International, an organisation that aims to tackle global corruption, says the problem lies.
It wants a mandatory register that includes every single meeting that takes place in the lawmaking process.
"If we are talking about a mandatory transparency register, meaning that there is no possibility for people that are not registered to engage with our policymakers... it will mean that if you want to meet any person, whether in the [European] Council, [European] Commission and [European] Parliament that is drafting or helping to draft or helping to shape policy that will impact 500 million people if you meet any of those people you have to be registered and all of those meetings have to be published in a manner that people can easily access and easily understand," Vitor Teixeira, from Transparency International, told Euronews.
But Danuta Hübner, the MEP in charge of the report, says it will be practically impossible to work as a lobbyist without being registered.
"We call this register for the first time mandatory because we think we closed probably most of the loopholes that existed and now we have more guarantees that practically without being registered you could not do your lobbyist work," the Polish lawmaker told Euronews.
The Parliament and the Commission have already been registering their meetings for years, but just on a voluntary basis.