Italian youngsters target government in bid to boost investment in youth policies
Comments
By Elena Cavallone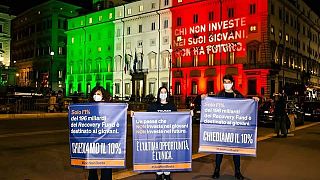 Copyright

"1 is not enough" campaigners
A group of young people in Italy have started a campaign to raise spending on youth policies.
The move comes after the government's proposal on how to use the European Union's pandemic recovery fund showed just 1 per cent would be spent on Italian youngsters.
The new Italian government led by Mario Draghi is currently finalising its spending plan to access money from the so-called NextGenerationEU - Europe's plan to help repair the economic and social damage caused by the coronavirus. And according to the latest draft, only 1 per cent of the €209bn allocated to Italy will be spent on youth policies, meaning €3bn in total.
Lorenzo Sanchez, one of the activists involved in the campaign called "One is Not Enough", says this number is far too small, given that youth unemployment in the country is at 29.7%. They want the government to raise the amount of investment in young people from the NextGenerationEU fund to 10 per cent.
"Italy is a country that has a significant gap in investment in youth, so €3bn - during one of the hugest crises in history - is simply not enough because it was not enough before the pandemic and surely is not enough now. We have asked the government for 10 per cent of the total fund," Sanchez told Euronews.
He says that despite graduating with a Modern Languages degree in Italy and one in International Relations in the US, finding stable employment has been a struggle.
Sanchez added that this is an experience echoed across the country by young job seekers.
"When I came back from the US I thought I wanted to pursue a career in academia or work as a policy consultant, but I realised, and I have been told, that my dreams cannot become true in this moment, in this situation, because I am either overqualified, but with a lack of experience, or I am too young to have any experience. It's weird," the 24-year-old activist explained to Euronews.
The governments' proposals will be put to a first vote on March 30th by the Parliament.
But the "One is Not Enough" campaign has already reached some Italian MPs, who are pushing to raise the number to at least 3 per cent.
"There is a huge area that needs investment which is active labour market policy," Italia Viva MP Massimo Ungaro told Euronews.
"We need to reform traineeships for the young. We have to fight unpaid internships by regulating that market. We would like to launch an emergency programme to bring young people into enterprises: the State should finance their period of time inside enterprises for studying or working."
In order to receive funds from the NextGenerationEU fund, each member state must submit its national plan to the European Commission by April 30.
One of the criteria that must be respected is investment in youth policies.
But Nicolas Schmit, the European Commissioner for Jobs and Social Rights, says that governments should focus on digital skills in order to make young people more employable.
"Think about the digital economy: thousands and thousands of vacancies and many companies have difficulties in finding the right people," Schmit told Euronews.
"You can train young people in a relatively short time for digital jobs and certainly after the crisis the digitalisation of our economies, of our companies will go much faster. So, I think there are good prospects for good jobs in the future."
But unlike investments in the green and digital transitions, the European Commission has not indicated a minimum amount of spending for youth policies.