EU's plan for including people with disabilities isn't moving fast enough, say activists
Comments
By Bryan Carter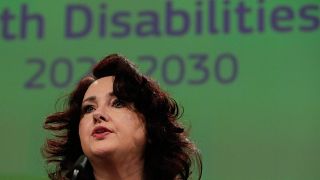 This week, the European Commission unveiled a ten-year strategy for people with disabilities, which seeks to reinforce their inclusion in society as well as their access to justice, jobs, elections and other rights guaranteed to all European citizens.
However, for Gisèle Marlière from the European Disability Forum, progress will remain slow in the absence of clear data to monitor the efforts made by member states.
"If we don't have these indicators, this data, these requests for data, this monitoring, we won't have enough to make progress," Marlière told Euronews.
"Which doesn't mean that the member states are not making progress, but it is not as fast and as efficient as we would expect," she added.
One concrete step the EU says it will take is the introduction of a European disability card.
During a press conference, Helena Dalli, European Commissioner for Equality, said: "The European Commission will propose a European disability card recognised by all member states, which will make it easier for people with disabilities to make use of their right to move freely."
The EU plan builds upon a previous decade-long initiative.
An estimated 87 million people in the European Union live with some form of disability. Their situation may vary from one country to another, but they are generally more likely to be exposed to social exclusion, poverty, illness and unemployment.
In Brussels, the NGO Silex organises social activities for its members, like Thierry Balint, a 56-year-old resident of Brussels, who was born with intellectual disabilities and has epilepsy.
Balint, who has been working in public administration for the last 20 years, says people with his condition suffer from discrimination and a lack of access to transport, education and culture.
"Things are starting to change, but more should be done," Thierry told Euronews. "For example, to have access to culture, to go to museums, to cinemas, to see exhibitions, things should improve, we should be better welcomed."
Silex's director, Gilles Bogarts, says it is vital to speed up the implementation of inclusion policies, as the COVID-19 pandemic took a heavy toll on people with disabilities.
"[Our members] find themselves in serious isolation and solitude, because they don't have access to all the means that other people use to have interactions, such as video conferences, telephones and these kinds of things," Bogarts explained to Euronews.
As a consequence, some of the people with disabilities have increased alcohol consumption, depression and suicidal tendencies, making the need for better inclusion all the more urgent.