Have Russia and China got enough COVID-19 vaccines to sell abroad?
Comments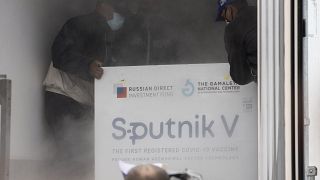 Copyright

YURI CORTEZ/AFP or licensors
EU chief Ursula von der Leyen has claimed Russia has sold its COVID-19 vaccine to other countries before inoculating its own people. 
The jab has been bought by countries such as Hungary, Serbia and Argentina. 
"We still wonder why Russia is offering theoretically millions and millions of doses while not sufficiently progressing their own people," said von der Leyen. 
Jacob Kirkegaard, from the German Marshall Fund, told Euronews that Moscow is trying to use the selling of vaccines to achieve foreign policy objectives. 
But he doubts whether Russia has the capacity. 
"If you look at the rollout of Sputnik domestically in Russia it's very limited," he said. "I simply don't believe that the Russian government has the capacity to scale this up to any sort of meaningful, massive global delivery of Sputnik around the world.
"It may be able to ship an aeroplane or two filled with it to say, Hungary or some other country where it has benefits of doing it, but being an actual, sort of, significant supplier globally, or even in even in the EU, I would be very doubtful of that and certainly not a serious rival to the COVAX initiative or other global initiatives towards vaccine supply."
Yanzhong Huang, from the Council on Foreign Relations, said China was also seeking to use vaccines as a political weapon. 
Its vaccine is being used by the likes of Serbia and Turkey. 
"First, they want to improve the image that was tarnished during the pandemic," Huang said. "And secondly, they want to cement the ties to strategically important countries and also the countries covered by the Belt and Road initiative.
"The third, they want to expand the market share of their vaccine products and hopefully also to use vaccine diplomacy to help achieve other economic objectives, including access to resources, raw materials, etc."
So far, Russia has vaccinated around 4 million people, according to Reuters, while China had administered just 24 million doses in early February. 
Von der Leyen's swipe at Russia comes following criticism of the EU's slow rollout, amid supply issues and a slower vaccine approvals process. It has also been criticised by countries outside the bloc, such as Albania, despite a pledge of €870m to the COVAX initiative, which seeks to ensure poorer countries are not left behind in the vaccine race. 
The COVAX rollout has also been sluggish, with many countries at the beginning of February reporting they had yet to receive any vaccines. 
But Andrey Kovatchev, a Bulgarian MEP, believes COVAX will soon be able to provide inoculations to those in need.
"I hope from March-April the production capacity will be increased and the producers can provide the numbers which they committed to in the contracts. So the COVAX initiative will soon provide the services to lower-income countries," Kovatchev told Euronews.