EU needs radical new approach to cutting poverty, says UN expert
Comments
By Euronews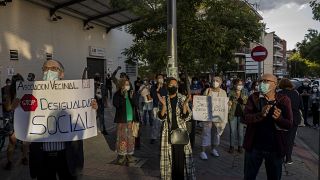 Copyright

Bernat Armangue/Copyright 2020 The Associated Press. All rights reserved.
The EU must take a radical new approach to how it governs if it is to achieve its objective of eradicating poverty by 2030, according to the UN Special Rapporteur on extreme poverty and human rights.
Olivier De Schutter presented his findings in Brussels at the end of a two-month official visit to the EU's institutions, where he warned of the need for urgent action.
"If Europe wants to lead the way towards inclusive societies, it needs a bold EU-wide anti-poverty strategy that commits to reducing poverty by 50 per cent equally across member states by 2030," De Schetter said in a statement.
According to the UN Special Rapporteur, one in five people, or 21.1 per cent of the EU's population, was at risk of poverty or social exclusion during 2019, representing 92.4 million people.
A total of 19.4 million children, representing 23.1 percent, are also at risk of poverty across the bloc, a number De Schutter calls "exceedingly high". Women are disproportionately represented among the poor, particularly as they reach old age due to inadequate pensions.
Between 25 November 2020 and 28 January 2021, the UN expert met with representatives from EU institutions, and national and local representatives from France, Spain, Italy, and Romania, speaking also with civil society organisations, social workers and people affected by poverty.
Euronews spoke with a Belgian pensioner from near Verviers, Raymond Jacquet, who has been seriously affected by the pandemic and thrown into near poverty himself.
"I was looking for pitta bread the other day and it cost me €6.50. I'm serious. For my budget, it's a big deal. I can do this every once in a while, but I also need to buy other products, like eggs, tomatoes. Other than that, I can't do anything else," he explained.
Jacquet also spoke about loneliness, telling Euronews that it is a huge part of poverty.
And the pandemic has only served to exacerbate the situation.
"Poverty isn't just financial poverty, it's social poverty too. And social poverty is very serious. I mean, you need to have contact with people, but like this, you're compartmentalised, like you're going to just die in your room. I live alone and have a small flat, so nothing amazing, but if things continue like this then I will die of isolation," Jacquet said.
In an interview with Euronews, De Schutter explained the effects of the pandemic will come in two waves and that the second is yet to come.
"We know that the crisis will come in two rounds," he said. "We already have a large number of people who have lost their income for months who eventually lost their jobs and these are often people who were already in a very precarious situation. 
"And then we'll have a second wave of redundancies that will accompany the company failures when the support that States are giving to companies will gradually be withdrawn. This is when a very large number of companies will, unfortunately, have to file for bankruptcy. 
"Unfortunately, we will see a very clear increase in poverty towards the end of 2021."