Colombia seeing a significant increase in violence this year
Comments
By Euronews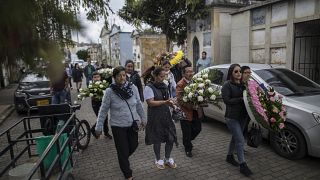 Copyright

Ivan Valencia/Copyright 2020 The Associated Press. All rights reserved.
In Colombia, the new year is already shaping up to be one of the most violent years since the 2016 peace agreement between the government and the Revolutionary Armed Forces of Colombia (FARC) was signed.
Social leaders, activists, and former guerrillas are being killed at an alarming rate, with a murder every four days, according to the country's special justice for peace, responsible for prosecuting people involved in the Colombian armed conflict.
After decades of fighting, a deal was finally reached between the two sides, but over four years later this delicate peace is being threatened once again.
Sebastián Escobar Uribe, a member of the José Alvear Restrepo Lawyers Collective (CAJAR), told Euronews that if this fighting is to stop, the government must address the root causes of the conflict.
"We had hoped that the government would implement comprehensive measures and public policies that could target all the different causes of violence, rather than focusing solely on the military's influence or on the permanence of armed groups," Uribe explained.
"It's also crucial, however, to facilitate the conditions for poorer communities that are historically in territories affected by the conflict to reduce the social gap that exists with Colombia's most important cities."
The European Parliament's subcommittee on human rights (DROI) has issued its own warning about the lack of security in the country.
In 2016, the EU created the European Fund for Peace in Colombia, with €127 million earmarked for rural development projects and the reintegration of ex-combatants.
"One of the EU's objectives is also to put an end to the structural deficiencies of the Colombian state, which explain to a large extent what has happened in the country over the last few decades, especially in the area of security," Spanish MEP, Javi López Fernández, told Euronews.
"Today, Colombia is an incomplete state and totally dysfunctional in some parts, which causes or opens the door to the assassinations of social leaders, human rights defenders or the serious problems that ex-combatants are having, with the alarming number of murders."
Colombian NGOs are also highly critical of the current President Iván Duque and his government for not tackling the structural causes of the conflict.
But Emilio Archila, a presidential advisor on stability and consolidation, defended Duque, telling Euronews the country is in the process of working on a long-term programme.
"We've completed a very detailed plan to take advantage of this 15-year period in order to overcome many issues that Colombia should have faced up to decades ago with or without agreements, and we are producing results that will make this process irreversible by December 2021," Archila said.
This plan includes various measures, such as support for victims and the reincorporation of ex-combatants, but also a process to help poorer families and farmers to replace coca plants, used to produce cocaine, with alternative crops.