Future trade deals won't be negotiated as fast as Brexit, says German MEP
Comments
By Euronews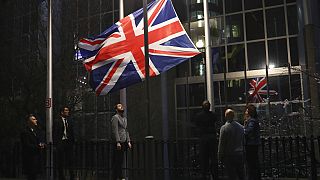 -
The EU will not allow future trade deals to be rushed again after the experience of Brexit, according to a German MEP.
David McAllister, who heads up the European Parliament's scrutiny of the Brexit negotiations, said the EU-UK talks were an exceptional circumstance.
London and Brussels agreed on a post-Brexit trade deal just before Christmas, giving their respective parliaments little time to scrutinise the agreement.
"I do regret that [the European] Parliament did not have sufficient time to give consent to this agreement in a normal procedure," McAllister told Euronews.
"That's why we agreed to accept the provisional application, but we've also made it very clear that this was a unique situation. This was a unique exception, and this, under no circumstances can be a precedent for future trade agreements."
MEPs only began scrutinising the trade deal between the EU and the UK on Thursday, after accepting it on a temporary basis at the end of last year as time was running out.
But following the first review sessions of the agreement, MEPs welcomed it as a good solution, saying that a no-deal Brexit would have been a disaster for citizens and companies on both the EU and UK.
At the same time, they stressed that the parliamentary scrutiny of the deal must go beyond mere ratification, insisting on thorough access to information and a clear role for parliament in the implementation and future monitoring of the agreement.
They also said the fact that many aspects were not included in the negotiations on the future partnership was regretable, including the Erasmus programme, foreign policy, security and defence cooperation.
"Personally, I am very disappointed that the United Kingdom will leave the Erasmus Plus programme," McAllister told Euronews.
"I think that this programme was excellent to bring young students from the EU to the United Kingdom, but also to bring British students to spend part of their studies in one of the EU member countries. The UK government has decided to leave the Erasmus Plus programme, but now we need to find other possibilities."
But the German MEP said he will vote for the deal when it comes back to parliament in February.
"I will vote in favour of this agreement because I believe that this agreement, in the end, is fair and balanced and many, many of those aspects which are important for us in the European Parliament have been covered in this agreement as regards, for instance, the level playing field, which will ensure fair competition on both sides of the channel," the MEP told Euronews.
But he added: "Unlike our colleagues in the British parliament who had more or less 48 hours to analyse the deal, we are taking our time and we will continue to take our time to have a very close look at these 1,300 pages."