Brussels bids to boost Europe's connectivity with 600 low-orbit satellites
Comments
By Euronews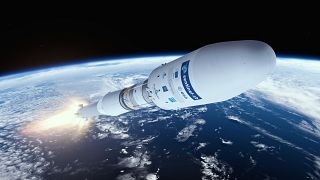 -
Copyright

Agence spatiale européenne (ESA), 2016
The European Union wants to launch 600 new low-orbit satellites by the end of the decade, with the aim of boosting connectivity across the continent.
Thierry Breton, speaking at the European Space Conference in Brussels, said he wanted to build on the success of the Galileo and Copernicus programmes.
Breton, who is in charge of space policy at the European Commission, said he wanted the first devices up before 2027. 
Low-orbit satellites are considered to be those that operate between 500 and 1,000 kilometres from Earth.
"These satellites are in low orbit, so they will essentially be used for connectivity," Stéphane Israël, CEO of Arianespace, explained to Euronews.
"Connectivity in isolated territories where fibre [broadband] is too expensive, for example. It can be when you are in a mobility situation where only satellites can give you this access, like on a plane or boat. Tomorrow, it could be something else."
But the project isn't just a technological and economic one. It's also political and is about securing the EU's strategic independence, according to Israël.
"It would have communication uses in security or defence, for example," he said. "When you are in what are called theatres of operation, these are not places where communications are always the easiest. Either because you arrive after a disaster or because you are in a conflict zone. And this new constellation could give or allow services of what is called secure communications. This is an example of European strategic independence. 
"Another example is data storage in clouds. You can have data exchange storage solutions that would be purely European and therefore you wouldn't have, from this point of view, dependence on other solutions." 
The EU's latest seven-year budget allows for more than €13 billion to be spent on space policy, a record-breaking contribution. 
Jan Wörner, the European Space Agency's director-general, urged Europe to continue to invest in space.
"Europe has to understand that failure is not the end of the story," he said. " Failure is just a data point to learn from and to go into the future. If you want to be at the forefront don't copy, invest in new things and allow also for failure. That's the magic formula for success."