We should cherish Europe's democracy daily, says MEP after Trump mob storm US Capitol
Comments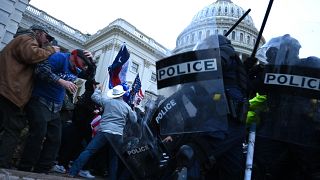 Copyright

BRENDAN SMIALOWSKI/AFP or licensors
Europe's democracy should not be taken for granted following the storming of the US Capitol on  Wednesday, a leading MEP on US affairs has told Euronews.
Finnish politician Miapetra Kumpula-Natri, who is the vice-chair of the European Parliament's US delegation, was quick to condemn the violence by supporters of President Donald Trump in Washington DC on Wednesday.
But her main warning was over the fragility of Europe's own democratic foundations.
"So, also here [in Europe], we should be very mindful of what we say and how we lead the debate in the countries and in the European Parliament and in Europe... the rule of law and democracy are the values that should not be taken as self-evident and easy, but something that we have to cherish and respect every day, every one of us," Kumpula-Natri told Euronews.
Jon-Christopher Bua, a political analyst at Reel Political News in Washington, said Joe Biden could be the ideal candidate to help solve US divisions.
"He (Biden) is almost the perfect president for this time because he is a soothing man. He is a man who has wisdom," Bua explained to Euronews.
"When I saw him on the screen last night [Wednesday], he reminded me of clips that I saw of Franklin Delano Roosevelt when he said December 7th (Pearl Harbour), a day that will live in infamy. He has that kind of veritas, he has that kind of presence to bring the country together.
"And, look, there are many people who like him," Bua added.