EU and UK transport officials reprimand France over UK truck chaos
Comments
By Euronews with AP and AFP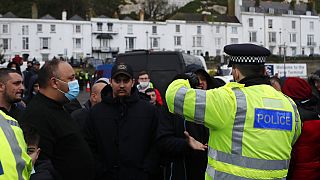 EU and UK transport officials have criticised France for imposing COVID-19 tests on truck drivers returning from Britain, with an estimated 10,000 waiting in Kent to cross the English Channel.
"I deplore that France went against our recommendations and brought us back to the situation we were in March when the supply chains were interrupted," tweeted EU Transport Commissioner Adina Valean on Wednesday.
Valean also thanked the UK for testing the hauliers.
UK Transport Secretary Grant Shapps said 2,367 tests had been carried out by midday on Thursday, of which only three were positive.
"As the EU Transport Commissioner has tweeted, testing hauliers is not recommended. Spending days in a lorry on your own puts you in an extremely low-risk category!" Shapps tweeted.
French Deputy Minister for European Affairs Clément Beaune denied that his country had failed to uphold EU recommendations.
Responding to a British journalist, he tweeted: "We have exactly followed the EU recommendation (opening with tests) and are now more open than other European countries, having worked jointly with the UK authorities on this protocol."
French-Britsh cooperation
As many as 26 French firemen arrived in Dover on Thursday morning with 10,000 COVID-19 tests, according to the French ambassador in London, Catherine Colonna.
But despite the push to massively test hauliers, a Dover port spokeswoman said it "received fewer than 100 freight vehicles'' on Thursday and officials warned the backlog could take days to clear.
France and the UK agreed to keep their border at the Eurotunnel between Dover and Calais open throughout Christmas "in order to help hauliers and citizens return home as soon as possible," Shapps said on Thursday.
Tensions in Dover
Tensions spilt over in Dover as the stranded truck drivers and travellers faced further delays in leaving the country.
Some have complained there is not enough capacity at the port to get people tested.
Soldiers and the UK's official test-and-trace workers were being deployed to carry out the tests.
UK government minister Robert Jenrick said it could "take a few days" to get the truck drivers tested.
France was among dozens of countries to close their borders to the UK due to the spread of a more infectious COVID-19 variant.
Paris announced on Tuesday evening it would ease its ban, allowing rail, air and sea services from the UK to resume Wednesday morning.
Only French nationals, residents in France and those with a "legitimate reason" to travel will be allowed into the country, and passengers need to present a negative result on a COVID-19 test that they took less than 72 hours before departure.
Results from both PCR and rapid antigen tests will be accepted, provided that the test used can detect the new variant of the coronavirus found across the Channel.
The two countries' leaders held talks on Monday and agreed to resolve the issue of goods transportation, which has been held up at the Channel as a consequence of the blockade.
EU calls for lifting of total travel bans
On Tuesday, the European Commission called on EU countries to lift full travel bans on the UK, following the decision by many countries to close borders over the new variant.
Brussels issued a statement calling for EU member states to allow for essential travel of UK and EU citizens.
"Blanket travel bans should not prevent thousands of EU and UK citizens from returning to their homes," said Justice Commissioner Didier Reynders.
The Commission said it accepted that countries must take precautions to control the spread of the new virus variant, but called for coordinated exemptions for "citizens and residents returning home and other essential travellers".
Speaking to Euronews, Health Commissioner Stella Kyriakides said: "What is important is that any measures taken need to be harmonised and coordinated across the member states. We have seen throughout this pandemic that harmonisation and coordination makes us much stronger and more effective in tackling the pandemic."
The restrictions led British postal company Royal Mail to say it was temporarily suspending deliveries to several European countries including France and Germany.
Deliveries to countries further afield such as Canada and Turkey are also affected, the company said.
Restrictions on UK travel across Europe
Most countries in western Europe and beyond have now suspended transport links with Britain.
Spain and Portugal decided on Monday to suspend flights from the United Kingdom from Tuesday. Spanish citizens and residents will still be able to enter the country, as long as they have a negative COVID test result.
Switzerland has banned entry for people coming from the UK and is requiring anyone who entered the country from there from December 14 to undergo a 10-day quarantine.
Russia has also suspended air links with the UK for a week, with restrictions starting at midnight on 22 December, the government said in a statement.
Germany has suspended all its air links with Great Britain until January 6.
The Dutch ban, from Sunday until January 1, came hours after Britain issued stricter restrictions for part of the country to slow the new variant.
"An infectious mutation of the COVID-19 virus is circulating in the United Kingdom. It is said to spread more easily and faster and is more difficult to detect," the Dutch health ministry said in a statement.
The Dutch public health agency, therefore "recommends that any introduction of this virus strain from the United Kingdom be limited as much as possible by limiting and/or controlling passenger movements."
In early December, sampling of a case on Dutch territory had "revealed a virus with the variant described in the United Kingdom," the Dutch government has said.
Experts were tracking potentially related cases.
Italy banned flights from the UK from Sunday until January 6, as the country detected a case of the new strain in a hospital in Rome.
The patient had recently flown back from the UK, a statement from the health ministry said.
"I have signed a new decree that blocks flights from Great Britain and prohibits entry into Italy for people who have stayed there for the last 14 days," Health Minister Roberto Speranza said in a statement.
Ireland imposed a 48-hour ban on flights from the UK, starting at midnight on Sunday. Irish transport secretary Eamon Ryan said ferries will continue to operate to allow freight to be shipped between the two countries.
"We need haulage coming in to keep our shelves full but other passengers will be restricted," he said.
Austria, Sweden,Romania, Finland, Denmark and Bulgaria are among other countries to have also imposed travel restrictions.
Denmark said flights to and from the UK would be suspended for 48 hours from Monday. Finland has put in place a two-week suspension of flights, also from Monday.
Non-EU countries join the ban
Canada announced its own ban on Sunday night. Prime minister Justin Trudeau said in a statement that for 72 hours starting at midnight on Sunday, "all flights from the UK will be prohibited from entering Canada".
He added that travellers who arrived on Sunday would be subject to secondary screening and other health measures. A follow-up statement from the government said cargo flights were not included in the ban.
Morocco and Turkey also temporarily suspended flights to the UK on Sunday.
On Monday, Russia and India banned flights from the UK.
The Central American nation of El Salvador, meanwhile, said it would refuse entry to anyone who has visited Britain in the preceding 30 days.
Saudi Arabia has suspended international flights and closed its borders for a week.
What's different about the new variant?
The variant spreading across the UK is up to 70 per cent more transmissible than other types, Johnson has said.
But he stressed "there's no evidence to suggest it is more lethal or causes more severe illness," or that vaccines will be less effective against it.
On Sunday, British Health Secretary Matt Hancock added to the alarm when he said: "The new variant is out of control."
The new variant currently accounts for over 62 per cent of COVID infections in London and was the cause of a further lockdown across the south-east of England.
But in his briefing to TV stations on Sunday, Germany's health minister Jens Spahn said EU experts have concluded that current vaccines against COVID-19 remain effective against the new variant.
"As far as we know at the moment and following talks between experts from the European authorities," the new strain "has no impact on the vaccines", which remain "just as effective", he said.