EU-African Union meeting postponed for a second time
Comments
By Isabel Silva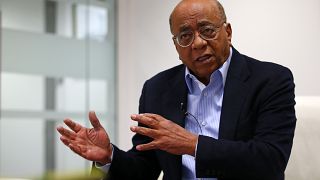 -
Copyright

HOLLIE ADAMS/AFP
European Union and African Union (AU) leaders have postponed a high-level virtual meeting for the second time this year.
The get-together, which was set to discuss vaccines and the reduction of Africa's public debt, was also put back in October due to COVID-19.
South African President Cyril Ramaphosa called a second postponement because of "the low level of representation at the heads of state-level".
British-Sudanese businessman and philanthropist, Mo Ibrahim, spoke to Euronews ahead of the latest deferment.
"The debt [of Africa globally, in terms of interest owed] in 2020 was about $44bn (€36.3bn). We had a moratorium [on payments] for six months or so, but we need a moratorium until 2021 or maybe 2022. Part of the [EU's] aid money should be used really to help the international investors to manage some of the risks of investment and that could have a huge effect," Ibrahim told Euronews.
As well as eliminating debt, he said energy is key to kickstarting Africa's economy
"It is important to develop energy in Africa. Half of our people do not have electricity. We cannot build an economy if you do not have electricity. You cannot have a secure society if you do not have electricity. We need to improve our education system and the way we train our young people because they need to be fit for the jobs of the 21st century."
But tackling migration will be just as crucial an issue.
"African migrants are less than 14 per cent of the global migrants. If we create opportunities for people where they are, most likely they will not move...[and] it is really important to end conflicts. That is why it is so important that African leaders are having a conference this week under the theme silencing the guns. We need peace," Ibrahim said.