EU seeks agreement on migration at high-level conference in Brussels
Comments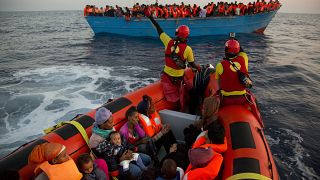 Copyright

Emilio Morenatti/AP

-
European lawmakers and stakeholders met in Brussels on Thursday to discuss migration, as the bloc seeks consensus on one of its most divisive issues.
The meeting comes just days after more deaths were reported in the Mediterranean and a few weeks after the European Commission presented its new migration and asylum strategy.
"I believe that the new political cycle gives us a historic opportunity to make a qualitative leap - to carry out effective and humane policies," said David Sassoli, president of the European Parliament. 
"I want to welcome the European Commission's proposal for a pact for immigration and asylum, a package of proposals that represents a foundation on which to build.
"Any effective EU migration and asylum system must be developed with certain principles in mind. We need a fair division of responsibility for the reception of people, for the identification operations, the examination of asylum requests, the reception of refugees, and carrying out repatriation. 
"This implies a much greater commitment both in the relocation of refugees within the Union and in the resettlement of refugees from third countries. We need to define alternative legal pathways for protection, such as humanitarian visas."
Sassoli was speaking at the high-level Interparliamentary Conference on Migration and Asylum in Europe. The European Parliament-hosted event was attended by European Commission President Ursula von der Leyen and former UK foreign minister and CEO of the International Rescue Committee, David Miliband.
While there has been much focus on the situation in the Mediterranean, focus is also now turning to the so-called Western Africa route, where more than 500 people have died this year, attempting to cross it.
The latest hotspot for the refugees and migrants taking this route is in the Canary Islands, increasing Brussels' urgency to reach an agreement on the issue as soon as possible.
The European Commission will next week present an action plan that will stress the need to strike a balance between the integration of migrants and their repatriation.
However, since the recent wave of terrorist attacks in France and Austria, some EU leaders have asked for tighter border controls and stricter rules on the integration of arrivals.
But Olivia Sundberg Diez, a migration policy analyst at the European Policy Centre, told Euronews that this combination might not be the best mix.
"The large majority of terror attacks that have been committed in Europe during the past decade were committed by EU citizens, not by migrants. So I think it is a very feeble association to make. There is already a lot of legislation focused on protecting the EU borders, in terms of the Schengen border code and in terms of the external border.
"The larger question is one of implementation, the extent to which the Member States are actually applying the measures that are in place. Currently, we see significant gaps in the implementation of EU legislation in terms of the recognition of asylum decisions and they vary widely between member states," Sundberg Diez explained.