UK says post-Brexit trade talks 'finished' unless 'fundamental change' in EU approach
Comments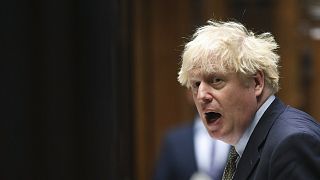 -
Copyright

Jessica Taylor/UK Parliament via AP
Post-Brexit trade talks with the European Union are "finished" unless there is a significant change of approach from the bloc, Downing Street said on Friday.
"From our point of view, the trade negotiations are finished. The EU has de facto put an end to them and it will only be worth talking to each other if there is a fundamental change in the EU's position," a spokesman for prime minister Boris Johnson said.
In a video statement to leaders attending the European Council summit in Brussels earlier on Friday, Johnson said that the UK would be willing to embrace a no-deal exit at the end of the year unless the EU could offer Britain a Canada-style free trade agreement but stopped short of walking away from talks.
"Of course, we're willing to discuss the practicalities with our friends where a lot of progress has already been made, by the way on such issues as social security, aviation, nuclear co-operation and so on," he said.
"But for whatever reason, it is clear from the summit that, after 45 years of membership, they are not willing, unless there is some fundamental change of approach, to offer this country the same terms as Canada."
Johnson said Britain was now with "high hearts and complete confidence" preparing for a no-deal Brexit with the country on the path towards an "Australian solution," a relationship based on "simple principles of global free trade".
Speaking at the summit on Thursday, German Chancellor Angela Merkel called on Johnson to stay at the negotiating table, saying both sides needed to find common ground as the troubled talks look set to wind down.
Downing Street had indicated that if a deal was not reached by this weekend, the UK would retire from talks on the future trade relationship with the EU.
The EU had proposed extending talks by a further two to three weeks but in a statement on Thursday, the EU Council President Charles Michel said it was up to the UK to "make the necessary moves" to make an agreement possible.
"On Brexit, we are united and determined to reach an agreement. But not at any cost," he said.
"Any agreement on our future relationship would have to be based on our mandate, in particular when it comes to the level playing field, fisheries and governance.
"On those issues, we are concerned by the lack of progress at the negotiation table. We are 100 per cent united. And we fully trust and support our chief negotiator, Michel Barnier, to continue negotiations. And we call on the UK to make the necessary moves."
Michel added that EU negotiator Michel Barnier, who is due to visit London on Monday, would carry on negotiations next week with the bloc stepping up preparations for a no-deal Brexit.
"As regards the Withdrawal Agreement and its Protocols, they must be fully implemented. Full stop. And that's also a question of international credibility for the UK.
"In parallel, we will step up our work, at all levels and for all outcomes, including that of a no-deal."
In draft conclusions prepared ahead of the summit called on talks with the UK to be continued "intensively" but was changed in the official version agreed on Thursday to just "continue negotiations".
The change in the language used in the official EU communiqué had been noted by lead UK Brexit negotiator David Frost who said in a post on Twitter on Thursday that "disappointed" and "surprised" by the EU's amended approach.