The EU project trying to solve a plastic packaging conundrum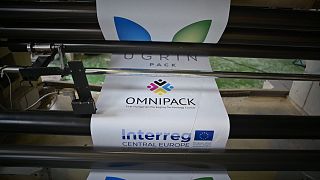 Andrej Kržan, BioComPack‐CE Project Co‐ordinator has worked on environmental solutions for plastic waste for more than two decades.
The problem is, packaging combining plastic and paper is difficult to later recycle.
So what are the challenges in Central Europe right now and how can we implement more sustainable packaging in real life?
Andrej outlines the issue:
"Plastics and paper are commonly used together and they make great products. But they then create a problem at the end of the life of the product, for the waste. We either can't recycle them or it is difficult to do and this is a very real limitation to the circular economy we are trying bring about.
"We can already see within the project the best practices and how it can be done. So we have, say, Italy which is leading and has already a lot of bioplastics production, it has a lot of sustainable products on the market and then we have Croatia: that has a problem with collecting bio-waste or composting, and so on. This is the infrastructure that we need to support a change like that.
"The thing is, you inform people, they accept it, they start thinking about it, but it takes a little bit longer to do it. It is not within the project. You very often see, let's say a few years afterwards, an outcome. But a very clear outcome, and it's very rewarding to see that."
Watch the full episode of Smart Regions here: