Europe's week: Workers rights and tourism turbulence
Comments
By Stefan Grobe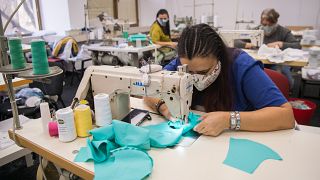 Copyright

NIKOLAY DOYCHINOV/EU

-
In Europe, May Day has always been a day of large marches and big gatherings to express solidarity with workers.
Not this year. Instead: posters and banners on balconies or windows at home and protests on social media.
In any case, it's a challenging moment for unions across Europe, as solidarity is needed more than ever before.
But first, how the re-opening of our economies is managed, is another challenge for organized labor.
This week the International Labor Organization issued a warning to be extremely careful:
"It is so important to remember that we are not getting back to business as usual and we need to take extra precautions on occupational health and safety," said Vic Van Vuuren (ILO).
Tourism turbulence
As several governments relaxed lockdown restrictions, people in some sectors were allowed to go back to work. But entire industries are condemned to wait in line until it's safe and the virus under control.
This week, tourism professionals sounded alarm bells.
Hit by stay-at-home orders and travel bans, the sector might collapse, if urgent financial support is not provided, they said.
Hotels, travel operators or airlines risk to go out of business and disappear, it's as simple as that.
That's why the tourism sector wants to return to normality as soon as possible.
"The best scenario is going to be if politicians relax the rules, make sure that the people who are at risk isolate, but have a managed return to normality. But that normality has to be normal. It can't be a modified form of normality," Tom Jenkins, CEO European Tourism Association told us.
Whether it will be possible to jump-start the economy and bring back the millions of jobs lost quickly is the trillion-euro question.
The European Commission wants to seize the moment to push what used to be their pre-crisis priority: the Green Deal.
No new economy with old habits:
"As we now plan to slowly go back to work and to invest billions of euros to restart our economy, we should avoid falling back to old polluting habits. Instead, we should bounce back better from this pandemic. We can make our society and our planet healthier," EU Commission President Ursula von der Leyen said.
Union fight
Millions of jobs lost, many industries fighting for their survival, low-paid workers keeping society going and climate goals that we don't want to shelve. So how is Europe faring in fighting for worker's rights?
"I think there is a great change in the narrative. If we compare the mood that was around during the financial crisis, after the financial crisis, you know, there was a total underestimation of the contribution that healthcare workers, public service workers, any other kind of low-paid workers in some activities were bringing to society and to the liberal market of our economy. Now, this awareness is there. And it is also because of that that for the first time ever the European Union is going to provide money to health care systems. Well, it's all impressive, it's very good that within a few weeks all this was decided upon, but the money is still not there,"says Luca Visentini, the Secretary General of the European Trade Union Confederation.