Coronavirus in Europe: France's daily COVID-19 death toll doubles in a week
Comments
By Euronews with AFP, AP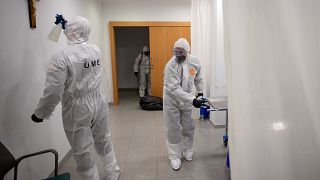 Copyright

JOSEP LAGO/AFP OR LICENSORS

-
France's daily COVID-19 death toll has doubled in just a week.
The country's authorities revealed 499 new fatalities from the disease in just 24 hours on Tuesday, up from 240 seven days ago.
Another 458 people were admitted to intensive care units for treatment, taking the total to more than 5,000. It includes 68 people under the age of 30.
The country has more than 52,000 confirmed cases of the virus and is moving patients from the worst-hit areas in the east and in the capital Paris to other hospitals across the country.
The director of the national health agency, Jérome Salômon, said on Monday they expected the quarantine measures to begin having an effect soon, but hospitals in the east and centre of the country are heavily saturated.
He has launched a call for doctors in the region with experience in intensive care units to join the ranks of those on the frontline.
Western Europe has been particularly badly hit by the epidemic.
Spain announced another sombre record on Tuesday in the number of people killed by the coronavirus. Its latest daily bulletin announced 849 fatalities in the previous 24 hours -- bringing the total to 8,189 deaths overall.
Confirming the worst day so far since the start of the outbreak, the authorities said the number of new infections had risen by over 9,000 in a day. The increase is 3,000 more than the previous day.
It brings the total number of confirmed cases to over 94,000, a rise of more than 8,000 in 24 hours.
It's a serious blow in a country whose health services have been overwhelmed by the pandemic in many areas. Spain is in the third week of a national lockdown and more restrictions on movement were announced at the weekend.
There are now more than 800,000 confirmed cases of COVID-19 globally.
In summary: Key coronavirus developments
Poland issues new restrictions on movement
Poland announced new measures to restrict movement amid the coronavirus pandemic including closing non-essential businesses, limiting the number of people in a store and warning people to stay two metres away from others.
The new measures also include restrictions on minors under the age of 18 who can only go outside accompanied by an adult.
"We want to avoid at all costs what has happened to our partners in Western Europe," Prime Minister Mateusz Morawiecki said, citing Italy and Spain.
There are currently more than 2,000 cases of coronavirus in Poland, much lower than other countries in Europe.
News from Italy 'encouraging'
Italy's death toll was on Tuesday increased by 837 for a total of 12,428 fatalities, authorities said.
But after nearly three weeks of a lockdown, there were some encouraging signs that the measures could be working in the country.
On Monday, the rise in new positive cases has never been lower, with an increase of 4%, half as much as four days ago (8.3%) and four times less than two weeks ago.
For the first time since the start of the pandemic in Italy, the number of people currently positive in Lombardy, the region most affected, has decreased (25,006 against 25,392 on Sunday).
Furthermore, the number of people considered healed across the country (1,590) has never been so high in a daily report.
"We can hope to reach the peak in seven or 10 days, then, reasonably, a decline in contagion," Deputy Health Minister Pierpaolo Sileri said on Monday.
Officials said they could be witnessing a flattening of the curve but called for people to continue to respect the measures of the lockdown.
Europe counts more cases
Germany announced 128 new deaths on Tuesday, bringing the total to 583. Cases rose by 4,615 in 24 hours bringing a new total of 61,913, according to the Robert Koch Institute (RKI) for Infectious Diseases.
The country's relatively low casualty figures for the virus have been attributed to significant early testing. However, numbers are expected to rise when deaths in retirement homes are included, RKI's chief said.
Meanwhile, in the UK the number of deaths was estimated at 1,789 on Tuesday after recording the highest one-day increase — 381 deaths — since the beginning of the outbreak.
King's College Hospital, in London, announced that "a 13-year old boy who tested positive for COVID-19 has passed away".
An appeal posted on the GoFunMe crowdfunding platform by Madinah College, named him as Ismail and said that he didn't have "any pre-existing health conditions.
He is believed to be the youngest COVID-19 victim in the UK.
The country's National Medical Director Stephen Powis had earlier said that it was too early to tell if the measures were working but that there were some "green shoots".
The UK's Chief Scientific Adviser Sir Patrick Vallance said on Monday that the country's lockdown measures were "making a difference". However, the government has been strongly criticised for a lack of testing, and over poor supplies of medical equipment such as ventilators and masks.
The government, under pressure about its level of preparedness, announced that a few thousands ventilators would be delivered to the NHS next week and that's several companies are working on producing more.
Minister Michael Gove, who conducted the daily press briefing from Downing Street, also defended the country's low testing capabilities, arguing other countries were facing the same issue.
Watch the UK government press conference in the video player below.
Also around Europe:
A plane carrying a million masks and other medical supplies, including virus testing equipment, arrived in Lisbon from China on Monday. Portugal had recorded 140 deaths and 6,408 cases of coronavirus, as of Monday.
Czech officials are considering whether to convert a Prague brothel into a shelter for the homeless during the crisis, AP reported.
The budget airline EasyJet said it was grounding its entire fleet of aircraft.
Shoppers in Austria will have to wear face masks in supermarkets, Chancellor Sebastian Kurz announced on Monday.
Could be too early to tell if Italy and Spain have reached the peak
Spain, Italy and the UK have much more "extensive" problems, making it difficult to know if the peak has been reached yet, experts at the World Health Organization (WHO) said while responding to journalists.
Dr Mike Ryan who leads the WHO's health emergencies programme said that the peak went up and down in Wuhan before it was actually reached.
But he said the cases today are really those that were contracted two weeks ago.
He added that it's important not just to get past the peak but to test and search for cases and isolate them in order to aggressively bring down the epidemic.
"The question is how do you go down, and going down isn't just about a lockdown and let go. To get down from the numbers, not just stabilise, requires a redoubling of public health efforts to push down," Ryan said, expressing hope that Italy and Spain were nearly there.
He said they advised that all suspect cases are tested and isolated in a medical facility. They also said that contacts should be quarantined and ideally not at home.
Most of the transmission is now happening in the home, the WHO expert said, explaining that contacts needed to be traced so sick people could be removed from the home.
Ongoing clinical trials
There is currently no vaccine to treat the deadly disease and WHO has stressed it is "still 12 to 18 months away".
WHO experts also reiterated on Monday that more research is needed to determine whether anti-malaria drugs including chloroquine or hydroxychloroquine are effective to combat the deadly virus, as suggested by some doctors.
"There are a number of clinical trials that are ongoing that look at chloroquine," Dr Maria Van Kerkove, from the WHO, told reporters on Monday.
"The challenge is that many of these trials are small in size which makes it difficult to draw conclusions, which is why it's important that we have these larger trials," she added.
The French National Agency for the Safety of Medicines and Health Products (ANSM) warned on Monday that some drugs currently being tested on patients including hydroxychloroquine must never be auto-administered at home.
It called on doctors not to prescribe them to people suspected of being infected by the virus, emphasizing that they should only be given to COVID-19 patients in hospital "as part of ongoing clinical trials".
"Several cases of undesirable side effects have been reported and are being analysed," the ANSM said in a statement, with the head of the agency telling the AFP news agency that "three deaths" had been reported.