EasyJet grounds entire fleet due to coronavirus pandemic
Comments
By Euronews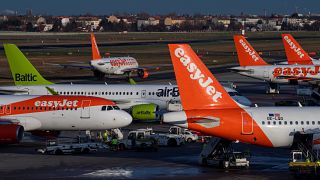 -
Copyright

JOHN MACDOUGALL/AFP
The budget airline EasyJet says it is grounding its entire fleet of aircraft because of "unprecedented travel restrictions imposed by governments" amid the coronavirus pandemic.
The company grounded most of its planes last Tuesday but has been operating hundreds of rescue flights to bring home stranded customers. It will continue to work with authorities to operate additional rescue flights if requested.
EasyJet says it can give no date for when it may be possible to restart commercial flights.
"As a result of the unprecedented travel restrictions imposed by governments in response to the coronavirus pandemic and the implementation of national lockdowns across many European countries, EasyJet has, today, fully grounded its entire fleet of aircraft," a statement sent to the London Stock Exchange read.
However, they will still operate for repatriation purposes. "We will continue to work with government bodies to operate additional rescue flights as requested," the statement went on.
The airline says it has operated more than 650 flights in recent days, returning home more than 45,000 customers.
The company adds that it has reached agreement with the Unite union on arrangements for its cabin crew. For a period of two months cabin staff will receive an average of 80% of their pay through a government scheme, EasyJet says.
Are airlines giving refunds?
If you booked a flight on any airline for a spring holiday, you might be out of luck. Borders and airports are closed, fleets have been grounded and flights cancelled.
But getting cash back for a flight that isn't happening anymore is proving difficult for many passengers.
There have been reports of airlines pushing company vouchers for future flights instead of cash refunds. According to Gilbert Ott, the founder of airline travel website God Save the Points, that's illegal.
"The first, most important thing to understand, is that if the airline cancels your flight — which typically, they're the ones doing the cancelling these days — you are entitled to a full refund," Ott told Euronews.
"European law states that it should be paid within seven days as well. The chances of that happening are very slim.
"You may have a better chance of winning the EuroMillions but that is the intent of the law and that's what should be happening, even though airlines are making it very difficult at the moment."
What should you do if you are entitled to a refund?
So what can you do? The first thing to do, said Ott, is stay calm — and remember that money is yours by law. Airlines have been using marketing tactics, like offering vouchers for more than the amount you paid for the flight in the first place, or an upgraded seat on a future flight, in order to get customers to agree to leave their cash with the company.
"For most people, cash is what we need right now," said Ott. "Especially as we face uncertainty in the job market. And if you do need it, don't accept the voucher, wait on the phone, do whatever you need to do, use all the channels available to you to contact the airline to try and get a resolution that gives a refund.
"If that's something that does not seem like it's going to happen, your last resort is a chargeback. It's always recommended to book travel with a credit card, because a credit card's chargeback protections means you will get your money back, as long as the airline is still going."
There's no guarantee that every airline that was in the skies prior to the pandemic will still be there after, so it's also important to try and force a quick resolution. But Ott says it's unfortunate that airlines are trying to solve cashflow problems by using their customers' money, rather than negotiating bailouts with the government.
"Many say that if they were to pay out the refunds in a timely fashion, they'd go bust within days. One could sympathise with them to an extent, but at the same time we as people have financial needs as well, and so there's no reason they should be able to do this to us."