Grammy award-winning Polish composer Krzysztof Penderecki dies at 86
Comments
By Euronews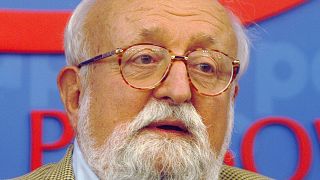 Copyright

AP Photo/Czarek Sokolowski

-
Celebrated Polish composer Krzysztof Penderecki has died at the age of 86 after "a long and serious illness," Poland's Ministry of Culture announced on Sunday.
The Ministry described Penderecki as "one of the greatest Polish musicians" with Minister Piotr Glindski lamenting "a great and irreparable loss".
Born in 1933 in Debica, southern Poland, Penderecki started studying the violin after the end of the Second World War and entered the Academy of Music in Krakow at 18.
He pierced through the Iron Curtain and gained international recognition in 1961 when he won the Prize of the UNESCO International Tribune of Composers for "Threnoby to the Victims of Hiroshima", a musical ode dedicated to the victims of the first-ever atomic bombing.
Already established as the leader of the Polish music avant-garde, he peppered his classical composition with human voices, unusual instruments and sound effects including alarms and recording of typing machines.
Throughout the following decades, his work, while still thoroughly modern, also became heavily inspired by sacred music.
Overall, he is credited with composing more than 100 instrumental works, including 20 chamber pieces, seven symphonies and four operas which he also conducted around the world.
He also composed more than 120 musical pieces for animated films, plays, documentaries and movies including the film scores for David Lynch's "Wild at Heart", William Friedkin's "The Exorcist" and Stanley Kubrick's "The Shining".
His impressive catalogue won him many accolades including four Grammy Awards, most recently in 2016 for Best Choral Performance, and an Emmy Award in 1995.
Jonny Greenwood, the guitarist of British band Radiohead, with whom Penderecki collaborated in 2012, took to Twitter to pay tribute to the late composer.
"Penderecki was the greatest — a fiercely creative composer and a gentle, warm-hearted man," he wrote. "My condolences to his family, and to Poland on this huge loss to the musical world."