Not helping separated migrant children 'a scandal', says Juncker
Comments
By Euronews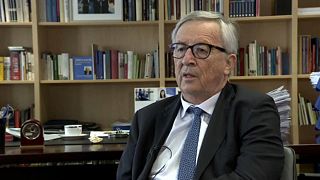 It is a scandal that unaccompanied migrant children in Greece are not being helped, ex-EU chief Jean Claude Juncker has told Euronews.
UNICEF said last summer there were more than 1,000 such youngsters living in detention or overcrowded centres in Greece.
A deal between the EU and Turkey in 2016 reduced migrant flows through Greece, but numbers have been increasing recently.
While it is not on the scale of the crisis in 2015, migrant camps on the Greek islands are dangerous and overcrowded.
"Some of the [EU] member states are not acting in solidarity," former European Commission president Juncker told Euronews, referring to children at the Moria camp on Lesbos.
"Years ago I was proposing to the Polish, the Czechs and the Hungarians to take in and on their territory unaccompanied children.
"And Greece has done a lot, not enough on the islands and on the mainland, not enough has been done. We have to improve on the Greek side and the European side. It is not acceptable to leave that we are leaving these children without any kind of help. It is a scandal!"