Brexit timeline
Comments
By Darren McCaffrey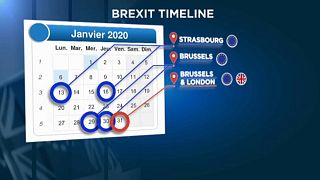 Copyright

euronews graphic
This article was published on December 19.
Back to Brexit in Strasbourg, and Michel Barnier met with MEPs in Strasbourg on the state of play.
"We work so strong. With passion and with a lot of dynamism, to reach a deal. So we will do everything to avoid a cliff edge," Barnier told our political editor.
As MEPs met following the Tories' thumping victory in the UK election. Concern here, that Boris Johnson's plan legally to rule out any extension to the transition period beyond the end of next year will make any comprehensive trade deal impossible.
"A comprehensive deal, you can forget about it. It's going to be a bare bones deal. And a bare bones deal will not satisfy the stated ambition of Boris Johnson to have a very significant and deep market access to the EU. So a bare bones deal means that there are border checks," Brexit Steering Group member Philippe Lamberts (Belgium, Greens/EFA) told Euronews.
However, Brexit supporting MEPs disagree.
"Is Boris Johnson legislating to curtail the transition extension showing best endeavours. I don't know whether that is going to create legal issues for him as the negotiations go forward. I hope not. I hope that he can say to the EU 'Look we're more than prepared to walk away from the table if you're not prepared to give us a good, simple free trade agreement quickly," said Alexandra Phillips (UK, Brexit party).
MPs in London are due to start voting on the Withdrawal Agreement this Friday, December 20th.
MEPs likely to get their chance to ratify the deal in mid January.
Allowing the UK to exit the EU officially on January 31st.
Most EU politicians are privately relieved that a Boris Johnson majority will provide some sort of stability, but there is concern about this future trade talks will be tough. And while the European Union believes it will have a stronger negotiating position - there are concerns that with different countries priorities splits could very quickly emerge.
"Anything that diminishes the capacity for Ireland to function in the Northern Ireland economy, would only undermine the economy of Northern Ireland and the Republic but equally, you know, we trade with Great Britain and we want that to continue as similar as possible," Billy Kelleher (Ireland, Renew group) told Euronews.
Britain may well be finally Brexiting at the start of next year, but it appears 2019 is ending as it began -with every chance that 2020 may turn out to feel all too familiar.
Read more:
Boris Johnson's new Brexit bill strips parliament of trade talks oversight