Watch back: EU chief Juncker gives last news briefing
Comments
By Euronews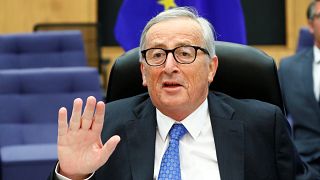 Jean-Claude Juncker gave a final news briefing before he is set to hand over power to his successor Ursula von der Leyen next week.
"It's the last time I have the pleasure and the honour to address this forum," the Commission president said as he spoke about the role of the press in Europe.
Juncker responded to questions about his presence in press briefings, saying that he did not think he was uncommunicative. He said he communicated to the press in several different ways.
He commended the multilingual atmosphere of the European Commission, stating that he appreciated being able to switch between languages, though he wished he had been able to make Luxembourgish an official language.
Asked about the situation in Malta after ministers resigned over the murder of journalist Daphne Caruana Galizia, he said he would not comment specifically on the situation but that he was following the matter.
"As far as the rule of law is concerned, I'm worried. In more than one country, the rule of law is not respected entirely enough," Juncker said. "I'm highly concerned."
He also said it was a regret of his to not have a spitzenkandidat succeed him as Commission president.
Many criticised European leaders for choosing a new Commission President outside of the process which would have seen the European party with the highest share of the vote get the EU's top job.
Juncker was until 2013 the prime minister of Luxembourg.
The Commission handover was delayed a month after parliament rejected three commissioner-candidates from Hungary, Romania, and France.
The former German defence minister's new Commission was approved by the European Parliament on Wednesday.
Charles Michel, the former Belgian prime minister, took over the EU Council from Donald Tusk earlier in the day.
Watch back: Charles Michel replaces Donald Tusk as EU Council President