Jean-Claude Juncker portrait unveiled as he hands over to Ursula von der Leyen
Comments
By Euronews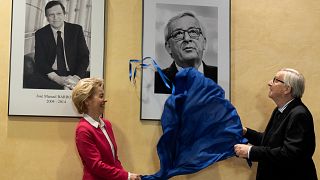 The official European Commission handover from President Jean-Claude Juncker to Ursula von der Leyen took place in Brussels on Tuesday.
"No one has cared for Europe as much as you have," von der Leyen yold her prededessor. "Jean-Claude Juncker and Europe will always go together."
During the brief ceremony, Juncker's portrait was unveiled.
Von der Leyen described Juncker as a leader who "succeeded in really protecting European interests, knowing that a trade war would only result in harming both European and American interests."
Juncker, who will turn 65 on December 9, has been President of the Commission since 2014. He is also former prime minister (1995-2013) of Luxembourg.
"To leave is to die a little. I am convinced that you will keep the member states united. If you need my advice, you'll get it. If you don't need it, you'll still get it," Juncker joked.
The Commission handover was delayed a month after parliament rejected three commissioner-candidates from Hungary, Romania, and France.
The former German defence minister's new Commission was approved by the European Parliament last Wednesday.
Charles Michel, the former Belgian prime minister, took over the EU Council from Donald Tusk earlier in that day.