European Commission candidates approved by EU Parliament chief ahead of final vote
Comments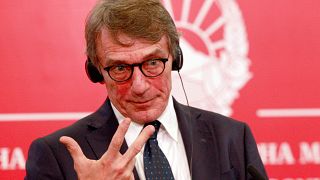 The European Parliament is to vote on the new European Commissioners after the parliament's chief announced the debates and hearings on the makeup of the new Commission were complete.
After meeting with the Commission's three executive Vice Presidents-designate, David Sassoli told a press conference the College of Commissioners would be presented to the parliament in Strasbourg on Wednesday.
"If it's a favourable vote, the Commisison will be able to start its work on 1 December," he said.
Prior to this announcement, the European Commission President-elect Von de Leyen had to select replacements for Hungary, Romania and France.
Her previous picks for the three countries - France's Sylvie Goulard, Hungary's Laszlo Trocsanyi and Romania's Rovana Plumb - were rejected by MEPs in recent weeks.
27 EU member states have made their nominations, but the United Kingdom failed to put names forward, leading to the European Commission to begin infringement proceedings against the UK.
The European Commission gave the UK until Friday 22 November to respond.
Here is the list of candidates
Germany: Ursula von der Leyen, President
Netherlands: Frans Timmermans, European Green Deal
Denmark: Margrethe Vestager, A Europe Fit for the Digital Age
Latvia: Valdis Dombrovskis, An Economy That Works for People
Spain: Josep Borrell Fontelles, A Stronger Europe in the World
Slovakia: Maroš Šefčovič, Interinstitutional Relations and Foresight
Czech Republic: Věra Jourová, Values and Transparency
Croatia: Dubravka Šuica, Democracy and Demography
Greece: Margaritis Schinas, Promoting the European Way of Life
Austria: Johannes Hahn, Budget and Administration
Ireland: Phil Hogan, Trade
Bulgaria: Mariya Gabriel, Innovation and Youth
Luxembourg: Nicolas Schmit, Jobs and Social Rights
Italy: Paolo Gentiloni, Economy
Poland: Janusz Wojciechowski, Agriculture
Portugal: Elisa Ferreira, Cohesion and Reforms
Hungary: Olivér Várhelyi, Neighbourhood and Enlargement
Cyprus: Stella Kyriakidou, Health
Belgium: Didier Reynders, Justice
Romania: Adina Vălean, Transport
Malta: Helena Dalli, Equality
France: Thierry Breton, Internal Market
Sweden: Ylva Johansson, Home Affairs
Slovenia: Janez Lenarčič, Crisis Management
Finland: Jutta Urpilainen, International Partnerships
Estonia: Kadri Simson, Energy
Lithuania: Virginijus Sinkevičius, Environment, Oceans and Fisheries
United Kingdom: Undeclared