New walls in Europe - a big business
Comments
By Maria Psara, Jack Parrock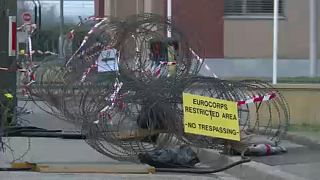 The Berlin Wall fell. But, especially since 2015, many different kinds of walls are constructed in EU to keep refugees and migrants out of Europe.
The report 'The Business of Building Walls', examines the business of building walls, which has both fueled and benefited from a massive expansion of public spending on border security by the EU and its member states.
The report is co-published by the Transnational Institute (TNI), the Dutch campaign against the Arms Trade (Stop Wapenhandel) and Delàs Center.
Part of the reason why we have this approach to migration is also because there are businesses that can profit from this. Those who most profit from the walls being built across Europe are the biggest arms companies. Particularly Thalys, Airbus, Leonardo. They have been involved in the different kind of walls we see emerging across Europe, not just the land walls but also the maritime walls which are all the maritime operations intended to keep refugees from landing in Europe," explains Nick Buxton, a researcher at the Transnational Institute.
The report finds that companies have reaped the profits from at least €900 million spent by EU countries on land walls and fences since the end of the Cold War.
And this boom in border budgets is set to grow. The report underlines that in the MFF, the European Commission has earmarked €8.02 billion to its Integrated Border Management Fund, €11.27 bn to Frontex and at least €1.9 billion total spending on its identity databases and Eurosur.
"Walls in the long term don't last. And it is time to bring down the new walls and find different responses to the social environmental reasons why people have to flee and leave their homes in the first place," says Buxton.