Brexit: MEPs on decision to suspend UK parliament
Comments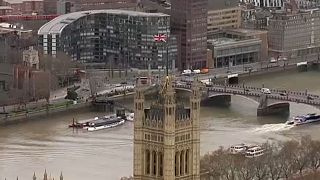 So here on the Brief from Brussels we've been talking to member of the European Parliament about how worried they are about Brexit now.
While the parliament in Westminster is set to be shut down.
Members of the European Parliament who are set to return to their work in Brussels next week are worried.
"Hard Brexit is bad for Europe and bad for Britain. Boris Johnson is an irresponsible politician who causes enormous damage to his country - and to our homeland, Europe, as well," says Hungarian Sandor Ronai from the Democratic Coalition.
But not all European lawmakers are so worried.
Eurosceptic MEPs from other member countries believe the UK should be permitted to work through Brexit in its own way.
"I think actually the European Union should behave more pragmatically and without punishing the UK - but I think that now their behaviour is more ideological," says Carlo Fidanza - Italian Far-right MEP
The suspension of the UK parliament also greatly decreases the amount time the British government has to try to find a solution to the controversial Irish backstop which Boris Johnson insists must be removed from the current deal.
"I think Boris Johnson is preparing British policy for an imminent no-deal Brexit that will harm the countries of the Union, but above all it will ruin British politics," Esteban Pons - EPP leader in the European Parliament.
Boris Johnson will attend his first summit of EU leaders here in Brussels after suspending his parliament on October the 17th - crunch time to prevent a No Deal Brexit.