Is there a way to break the Brexit deadlock?
Comments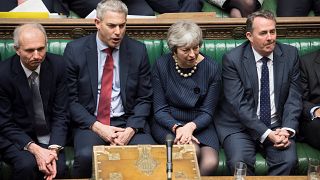 British MPs voted on Thursday to push back the UK's departure from the EU until at least June 30, 2019, if parliament agrees to a withdrawal deal by March 20.
Earlier this week, lawmakers also voted against Prime Minister Theresa May's Brexit deal and against crashing out of the bloc with no deal.
Theresa May will now seek an extension to Article 50, which is the term for the negotiation period. There will be two options on the table: either a short extension or a long extension.
But any extension will be determined by the remaining EU27, who can veto any delay.
So what is the way to break through the gridlock? Euronews asked former EU Commission President and Italian Prime Minister Roman Prodi whether the 27 EU members should grant an extension and if so at which conditions.