Russia takes centre-stage at NATO meeting in Brussels
Comments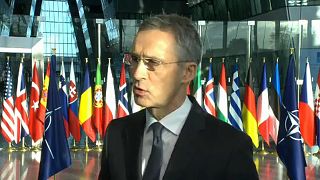 The Russian attack on the Ukrainian vessels who were on their way to Azov sea on 25 November was in the focus of attention of NATO' Foreign ministers meeting in Brussels. Secretary General Jens Stoltenberg called on Russia to immediately release the ships and the sailors.
"Because of aggressive actions against Ukraine, illegally annexing Crimea, destabilising eastern Ukraine, and now we have also seen what they tried to do in the sea of Azov, NATO has implemented the biggest reinforcement of collective defence since the end of the cold war," Stoltenberg told reporters.
NATO also decided to help Ukraine rebuild it's army and navy, mainly by training their personnel. However President Petro Poroshenko asked allies to send warships to Sea of Azov.
Michael Carpenter from Atlantic Council comments:
"Romania, Turkey and Bulgaria are all NATO nations with a Black sea littoral. So for example boosting NATO military presence in the port of Constanta in Romania would to my mind be a very useful step that would both boost NATO defence and deterrence and also provide Russia with a clear consequence for its aggressive action in Crimea and now in the sea of Azov as well.
NATO jets based in Romania have increased their air policing of the area. Warships have extended their presence in the Black sea from 80 day last year to 120 this year so far. Euronews correspondent Andrei Beketov reports:
"Russia is already reacting to the prospects of this NATO buildup. The member of the Council of Federation Alexey Pushkov has tweeted that "the call of US Senator John Barrasso to send ships to the Black Sea is a recipe for a sharp escalation of the conflict". In the meantime, according to internet agency Fotnanka.ru, the Black sea fleet is preparing to exercise near the entrance to the sea of Azov".