'Western Balkan route' for migrants, refugees stuck at borders
Comments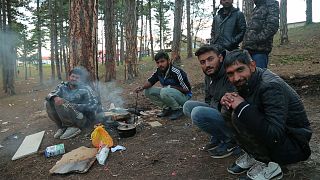 Thousands of migrants are stranded in Bosnia and Herzegovina on the border with Croatia. As the winter closes in, the external border of the European Union is inching towards a humanitarian emergency. Around 21,000 migrants have taken this route seeking safe refuge in the EU.
In the north-western mountain region of Bosnia-and-Herzegovina, hundreds of migrants are taking a perilous forest path. Croatia is only a few kilometers away and they are trying to illegally cross the external border of the European Union. Living in Europe is a dream for millions of migrants across the world.
Near the EU border is the Bosnian town of Bihac, where aid organizations have set up emergency food distribution sites for the many migrants who are stuck here. Many were sent back by Croatian border guards.
Official accommodation centers are fully occupied and as winter draws closer, temperatures are dropping. This leaves many sleeping rough in tents and abandoned buildings. Many are hungry and making their own food. Once they pass the border, there's a long journey ahead, so hearty sustenance is needed. A Pakistani migrant called Bilal is making his own bread.
"I am going to Spain. But first, we're going through Croatia. I am making bread because the food here is no good. [The] border is closed now. We've already tried three times to walk into Croatia."
Squatting in tents and abandoned buildings
In an abandoned students' dormitory, migrants are squatting. I explore the multistory building with labyrinth with my mobile phone light. Rival migrant groups have been clashing here. The Bosnian authorities have sent in special forces to arrest troublemakers.
Many refugees are fleeing intimidation and eviction, such as one asylum seeker, Shehzad. The Taliban threatened him after he was involved in a campaign to increase vaccination awareness in Pakistan.
"I was able to cross the border from Croatia to Slovenia. The Slovenian police caught me and forced me to return to Bosnia. Firstly, they transferred me to Croatia and [then the] Croatian police gave me to the Bosnian police."
Shehzad told "Insiders" reporter Hans Von der Brelie that the Slovenian authorities did not provide support or guidance in the asylum procedure: "We repeated again and again to the Slovenian authorities and police that we needed protection. They would not interview us. They did not take any documents. They do not give me any permission to go to the asylum office. We told them before that a lawyer is needed. They did not give me a proper lawyer.
Tighter Border controls on Western Balkans route
In 2015 around one million migrants and refugees took the Western Balkans Route through Serbia. That's until Hungary quietly closed its borders to nearly all asylum seekers. Three years later could there be a new Western Balkans migration route emerging through Bosnia-and-Herzegovina?
This year only 21,000 migrants are making their way through Bosnia-and-Herzegovina.' Croatia has already intensified controls.
Police and migrants clash at Bosnia-Croatia border
In October, hundreds of migrants tried to break through Maljevac border post at Velika Kladusa (between from Bosnia and Croatia). The police retaliated with tear gas and batons. The border crossing was blocked for a week.
After the unsuccessful breakthrough attempt, many migrants returned to Bihac. There are poor sanitary conditions here, with a lack of toilets and showers. But the overwhelming majority of migrants refuse to accept offers from the international community to resettle in their home countries. They want to stay near the border.
According to the UN Refugee Agency, around 2,500 migrants have pushed back from Croatia since the beginning of 2018. More than half say they have been denied access to asylum procedures and 700 of them have reported violence by border guards. Muhammad from Bangladesh claims he was attacked; he points out where he was hit:
"I have injuries all over my body, look at my broken hand. He was injured and his head is broken... I have no problem with them stopping people from crossing but violence is not OK. I'm a human being. I am not an animal. They took away my mobile phone, my money, shoelaces, everything they throw into the dustbin. But I am a human."
3 out of 4 migrants cross the border illegally
Close to the capital of Sarajevo, military barracks have been converted into an accommodation center for migrants stranded in Bosnia. Somali and Pakistani men are waiting outside the gate. The center can house 400 people but just days after opening, it's overcrowded.
Here we meet Peter Van der Auweraert. He's the Western Balkans coordinator of the International Organization for Migration. With years of experience he's an expert in this field:
"We are looking at a population with 80 to 85% being economic migrants rather than people in need of international protection. Roughly 35% are Pakistanis, the highest percentage of people here. We have 20% Afghanis, 20% Syrians...
[Regarding the] Syrians I have some doubts because there is also a number of people from Northern Africa who are self-declaring as Syrian. [Altogether] we have had some 20,000 to 21,000 people entering (Bosnia) since the beginning of this year and 4000 to 4,500 of them are still here. That means, that 3 out of 4 migrants have managed to cross irregularly into Croatia. It is clear that there were rumors circulating among migrants that Croatia would open their official border to let the migrants through. - This (wrong) message was parted (shared) by the smugglers who want to make sure that their business is ongoing."
Illegal Smuggling costs are surging
The price of smuggling people into Europe is rising sharply. This comes as Croatia and the European Union have made moves to step up their surveillance. But many are desperate to make this journey like Abdullah from Afghanistan
"I will do whatever is needed: I will pay money to the smugglers or I will just wait, whatever. But I really need to cross the border and go to Europe. To travel from Afghanistan to Bosnia I have already paid the smugglers 6500 Euros."
The high price is proving a problem for those who urgently need asylum like a former translator for the US army in Afghanistan. The Taliban kidnapped one of his brothers. For security reasons, the man spoke to Euronews on a condition of anonymity. He paid 5300 Euros for his trip to Bosnia.
"Many people are going through Croatia through the forest. It's difficult to do but the (main) problem is money. If you can pay the money, the smugglers will take you with themselves across the borders by foot, through in the forest, in the rain, crossing rivers... But if you can afford it, the smugglers will personally take you with them"
The smugglers frequently recommend a mountain path - through northwestern Bosnia – which leads to Croatia. But the money paid to the smugglers is a bad investment.
A group of men pay to be smuggled but they have not realised that they are being watched. They are being observed by motion detectors, thermo-vision cameras, high-tech drones, and even a small Frontex surveillance plane.
Frontex, the European Border and Coast Guard Agency, started operating in Croatia with a surveillance airplane at the end of July, monitoring the EU's external borders in the Western Balkans area. The plane streams video and other data directly to the Frontex Situation Centre at the agency's headquarters in Warsaw, along with relevant national and European authorities.
This day the Frontex plane spotted a person, waiting near a van in Croatia. From the plane, the vehicle was kept under surveillance and after a few minutes, a group of around twenty people were spotted, running out of the woods and climbing in the van. The Frontex plane followed the vehicle. During this operation, the agency's monitoring room was in constant contact with Croatian police on the ground in order to give updates about the position of the vehicle. Within half an hour, the Croatian police intercepted the vehicle and arrested two people smugglers.
Violence at the border
Hundreds of migrants are stranded at the border. They have been sleeping rough for months. Insiders spoke to a group of Iraqi Kurdish men. They have tried to enter the European Union through the forests several times. Croatian police pushed them back violently. They show us their broken smartphones.
"The Croatian police squeezed us all into a police van and drove us back towards the Bosnian border. They made us sit down and took our smartphones and told us not to move. They took our smartphones and smashed them in front of us. We were then surrounded by five policemen and two commanders. They told us to stand up. We asked them: where is the money you took from us? Instead of answering us they took their truncheons and hit me on my arms and legs. We were a group of five. We ran towards the water. We crossed the river and it was raining and cold and we arrived again in Bosnia. Once we had crossed the border they threw stones at us. This is a small stone - but they threw really big stones at us. We returned back towards Bosnia."
Croatia and surveillance equipment
After several weeks of negotiations, the Croatian Ministry of Interior authorized us to visit the local border protection unit.
Euronews spoke to an employee at the local border guard unit. He had received new surveillance equipment.
Euronews' Hans von der Brelie: "You told me that you got new equipment...?"
Damir Butina: "You see, it's a light thermo-vision camera...I can also show you a screen..."
HVDB: "Yes? What is it?"
DB: "It gives you a long distance view which you can operate with this joystick. You can see the terrain on the screen, it's like a PlayStation game (he laughs)."
HVDB: "So let's have a look outside how you are doing your job at the land border."
Croatian Police Observing the Border with Bosnia
Croatia wants to join the Schengen area soon, so it is putting extra effort into securing its external EU border.
In spite of that, police officers are adamant that they would never risk their jobs by assaulting migrants or even smashing their mobile phones.
So how do they explain the injuries of (many) migrants?
"We are aware of the reports coming from Bosnia-and-Herzegovina about the violence among the migrant groups internally. If they have injuries, its most probably caused by those rivaling migrant groups fighting against each other. They probably inflict injuries to each other and falsely claim the Croatian police did it." Damir Butina, Head of Certingrad Border Police Unit
The debate about alleged police violence has reached a political level. But could it delay Croatia's membership in the Schengen zone? The European Commission says they are assessing Croatia's management of the external EU-border. And the Council of Europe –which is in charge of supervising human rights all over the continent - asked the Croatian government for some answers.
The Croatian government firmly denies any wrongdoing and emphasizes the recent success in the fight against people smugglers along the 1.000-kilometer border with Bosnia.
At a muddy field in Velika Kladusa (Bosnia), hundreds of migrants are sleeping in makeshift shelters.
We ask Julien Kloberer the humanitarian officer with Doctors without Borders in Bosnia to confirm reports of alleged Croatian police violence
"When we document cases we investigate the wounds they have, the bruises, and those bruises match with the allegations people tell us. They are coherent to what allegedly they are coming from. So we see bruises that can come from kicks or of beatings with batons."
Bosnian war veterans cooking soup for Migrants
Earlier this year, Bosnians were supportive of migrants. But now, with a growing number stuck at the border, locals are staging anti-migration demonstrations.
But some are still helping those in need, like Asim Latic a Bosnian War Veteran who hands out warm meals for free.
"In nine months we've served between 400 to 500 meals every day. In total, we've served over 130,000 meals. We are a team of 5 people including myself. We are all (Bosnian) war veterans, we still remember those four war years we went through when we were thirsty and hungry ourselves. That's why we feel for those refugees and that's why we have decided to help them. They have the same problems we had, some time ago..."
Today, very few migrants are keen to fill out voluntary repatriation papers handed out. More will still try to cross the external border of the European Union illegally. The will brave rain, fog and darkness on their desperate journey to a new home.