Bosnian Mayor: The arrival of any more migrants has to be stopped immediately
Comments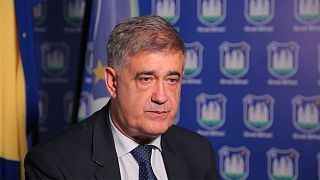 The northwestern Bosnian border city of Bihac, close to the Croatian border, is one of the locations being exposed most to what is called "The New Western Balkans Migration Route". Since the beginning of 2018, several thousands of migrants, mostly from Pakistan and Afghanistan, arrived in this border region. The Croatian government, in close cooperation with Bosnia and Herzegovina and Frontex, the EU's border guard agency, stepped up the surveillance of the 1000 kilometers of landborder. While most Bosnians showed huge solidarity with migrants earlier this year, the city of Bihac as well as the nearby border town Velika Kladusa saw anti-migration demonstrations recently. The public opinion seems to change rapidly on the ground. Euronews reporter Hans von der Brelie interviewed Suhret Fazlic, the mayor of Bihac.
Euronews
This year saw many migrants arriving here in and around Bihac. How does the local population react on this?
Suhret Fazlic
In the beginning of this year, around February, when the first migrants arrived in Bihac, ordinary people showed real empathy. During the war Bihac was under siege for more than 1000 days (so people understand the meaning of being in need). During this year, 2018, people were helping migrants a lot, regarding healthcare, clothing and many other things. But in the beginning there was just a group of 70 or 100 people. But already six months later the Red Cross of Bihac had to prepare 100 meals a day. And in October of this year the numbers went up again and nobody knows exactly any longer how many migrants are present here in Bihac. It is visible, that there are more than 3000 of them in Bihac and this is a problem for such a small community such as Bihac. Recently there are some migrants arriving with some strange behaviour, sometimes with some militant behaviour. There were over 100, maybe even up to 200 criminal offences. This is one of the reasons why the locals living here in Bihac strted to change their attitude towards migrants. But it makes also a difference if you meet a group of 20 young men from the Middle-East in the streets of Bihac, maybe coming from a war zone, or if you meet a family with small children. Depending on the situation your empathy, your mood is different.
Euronews
What should be done?
Suhret Fazlic
The newcomers, the new migrants coming to Bihac, have to be stopped. And the surplus of migrants who are already in Bihac, they have to be removed somewhere, because Bihac is a small community with just some 50.000 inhabitants. If you have 5.000 migrants around here that means ten percent of the local population - and that is the problem. Can you imagine Sarajevo - a city with roughly half a million of inhabitants - welcoming 50.000 migrants? And the third point: The community of Bihac needs to get some kind of compensation for the damage caused by the migrants. This compensation could be some projects for the local community, for instance.
Euronews
What is your recommendation to decision makers in Zagreb and Brussels? What is your recommendation to Croatia and to the European Union?
Suhret Fazlic
This problem regarding migrants is a global problem. It is a problem of Europe. It is a problem of the countries around us. It is a problem of Bosnia and Herzegovina as a State. But everything is focused on Bihac. That's not fairplay, we are the very last instance to deal with this issue. We expect from the European Union, from Croatia, from our neighbours, from our own State institutions to deal with this problem. The problem is real, we have to deal with it. But on our local decision making level we do not have any competences to handle the problem here in Bihac.
Euronews
To be specific, what should be done with those people stranded here? Should they move on? Should they stay here? Should they sent back?
Suhret Fazlic
European countries such as Croatia, Italy, Austria, Germany (...) should receive these people. They all want to go to Germany, Austria, Italy, Croatia, France... They do not want to stay in Bosnia, that is the problem.