Azov Sea - EU calls for de-escalation
Comments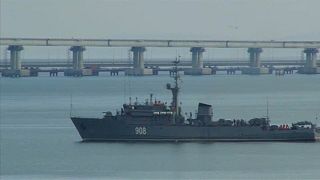 The European Union has called for de-escalation in the Kerch strait. On Sunday Russian naval ships attacked Ukrainian ones accusing them of illegally entering Russian territorial waters.
The president of the European Council wrote on Twitter:
"I condemn Russian use of force in Azov Sea. Russian authorities must return Ukrainian sailors, vessels & refrain from further provocations."
Russia closed the Kerch Strait for sea traffic by positioning a cargo ship under the bridge spanning it. The passage was reopened on Monday. But the Ukrainian coast guard boats were prevented from entering the Sea of Azov. Moscow's envoy to the EU explains Russia's own naval presence in the area:
"For geological reasons the passage to Azov sea through Kerch-Yenikale canal is a difficult task because this canal is narrow, and it has to be regularly deepened - That's why the ships sail there in convoys escorted by Russian coast guard vessels of Russia," Vladimir Chizhov remarked.
Since last April the Russian navy has also subjected to inspections over 150 ships going to and from the Ukrainian ports.
Bruno Lete from The German Marshall Fund of the US in Brussels commented:
"It must be done according to international law in coordination with other countries that are using these passages. Courtesy would have to force Russia at least to coordinate with Ukraine as well in order to board those ships to inspect them or to help those ships to pass the straits. Russia has not done all these things."
NATO has expressed full support with Ukraine.