Brussels attack survivor and former sports star runs marathon
Comments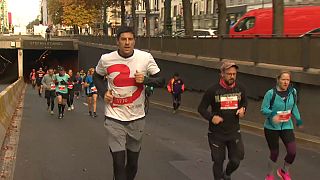 On Sunday, Sebastien Bellin, 40, hovered behind the start line of the Brussels marathon - two-and-a-half years after wondering whether or not he'd be able to walk again.
"It's a big moment. I dreamed about this. You know, this was one of my goals in the rehab, in the journey for the past two-and-a-half years. So, I'm excited to see if my body can hold up."
After a few minutes to warm-up, the former basketball player-cum-manager for Belgium's Spirou Charleroi team sprinted alongside 2,300 other marathoners.
On March 22, 2016, Sebastien was waiting for his flight to the United States at Brussels airport when a suicide bomber blew himself up. The blast resulted in him losing part of his left leg and almost all of the feeling in it.
At the end of five-and-a-half hours of intense effort, he crossed the finish line, exhausted but thrilled. He had beaten one of the biggest challenges he had ever set himself.
"It's amazing, I'm going to check that off my list. You know, two-and-a-half years ago when I was on that hospital bed… I don't think I was going to be able to do this," he said.