EU-US relations 'like an up-down marriage but intact' – US ambassador
Comments
By Nima Ghadakpour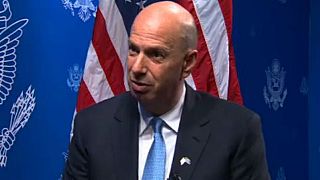 EU-US relations have hit a rocky patch of late, with ongoing an ongoing trade dispute souring the transatlantic friendship. The US has announced new talks for separate agreements on trade with Britain, Japan and the EU. 
We spoke to the new US ambassador to the EU, Gordon Sondland, in Brussels about the spat, in particular on President Donald Trump's comments, Sunday, that nobody treats the US 'much worse than the EU'.
"I've likened our relationship to a long-term faithful marriage that has its ups and downs, and the marriage is intact but we're having a down right now. Soon we'll have an up," explained Sondland.
We asked about his own dealings with the European Commission President Jean-Claude Juncker, whom Trump has described as a 'tough cookie'.
"I believe he shares the notion that we have these deep and binding ties aside from trade, and the relationship is too important to let any specific issue dictate our overall relationship. But trade is definitely where our focus is right now," said Sondland.
Shifting to Iran, the ambassador said he didn't agree with the EU's approach to dealing with the Islamic Republic, and the ways in which it is aiming to keep the nuclear deal intact after Washington pulled out of the accord earlier this year.
"The special vehicles they are trying to set up to wire around upcoming sanctions are not going to work for a simple reason, which is that most companies will not avail themselves of that structure. They have a choice to make. They can do business with the US. They can do business with Iran. But they can't do business with both."
Questioned on whether the sanctions on Tehran actually harm the ordinary people, rather than impacting the government, US Special Representative for Iran, Brian Hook said the suffering was not due to US sanctions.
"It is simply a talking point and it allows the regime to deflect blame away from their own 39 year perfect record of corruption, self-dealing, mismanagement and violent misadventures all over the Middle East and beyond," he said.
The next wave of US sanctions on Iran hit on November 4.