DEBUNKED : No, Manuel Valls didn't describe his life in France as a holiday
Comments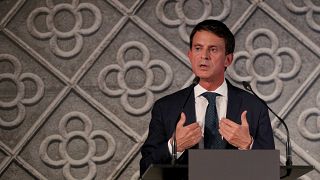 ''I'm a Spaniard on vacation in France for 40 years." This is the false quote being attributed to former French Prime minister Manuel Valls. 
It has been circulating on social media since rumours, confirmed last night, began to spread that Valls would stand for mayor of the city of his birth, Barcelona.
The real origin of the quote? A well-known French comedian Nicolas Canteloup imitated Valls on September 24 during a daily segment on Europe 1. 
The French network used the quote as a headline for their online piece and shared it on Twitter. From there people shared the quote and attributed it directly to the former prime minister.
The Cube is a newsdesk run by a team of Euronews journalists specialising in social discovery and verification. They comb through social media to find, verify, and debunk stories, in real-time, for our audiences on-air and online.