Find prices displayed on Airbnb's website misleading? They're about to change
Comments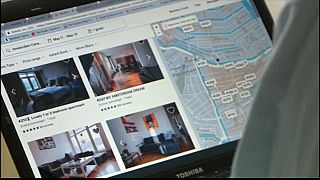 Three months after being told to pull its socks up by Brussels, Airbnb is revising its terms and conditions.
Airbnb has committed to presenting the total price of bookings, including extra fees, such as service and cleaning charges, the European Commission said in a press release.
When it is not possible to calculate the final price in advance, they have committed to clearly informing the consumer that additional fees might apply, it added.
The travel site was told to be clearer when it comes to pricing information and identifying the accommodation host — clarifying whether they're a private provider or professional. This will bring Airbnb's operation in line with EU consumer regulations.
"I had a meeting with representatives of Airbnb, they promised to me but also to the CPC, to the representatives of the consumers' protection network, that they will make necessary changes by the 18th of October," said Vera Jourova, EU Commissioner for Consumers.
This meeting concluded with a positive note also for Airbnb, which released this press statement: "Airbnb is a community built on trust and transparency is a key part of that. Guests have always been aware of all fees, including service charges and taxes, before booking listings, and we are pleased to work with the CPC to make this even clearer for guests."
Founded in San Francisco, Airbnb's been in business for a decade now — matching people who want to rent out a room or property with temporary guests.
Such platforms have been accused of hiking housing prices and contributing to shortages in big European cities. Airbnb has always argued that it's just an online service provider.
"Once it has been established by the whole Commission that Airbnb is indeed a private company, that has to apply with all possible rules, in that case Airbnb will have to make a U-turn and start working with cities such as Amsterdam, Berlin and others who have been complaining over illegal listings for years," commented Kenneth Haar, from the Corporate Europe Observatory.
While Airbnb is complying, the European Commission says Facebook and Twitter are yet to fully address issues raised with them seven months ago.