Brief from Brussels: Brexit and migration to dominate Salzburg summit
Comments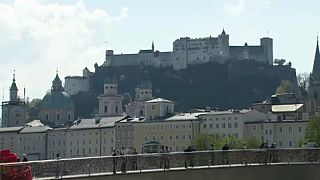 EU leaders come together in Salzburg from Wednesday for an informal two-day summit, with some key issues at stake - striking at the core of the bloc.
The UK's Theresa May will be in town for dinner, as the Brexit end game approaches – some of her divorce terms still too sour to swallow.
And there'll be plenty to feast on in terms of migration – as Italy's anti-establishment government continues to pile pressure on Brussels to cure that political headache.
For Theresa May, the Salzburg summit will be the first time EU leaders have sat down together since she unveiled her Chequers Brexit proposals.
She's got a tough sales job on her hands, with big sticking points – like the Irish border – still standing in the way.
"It would be very important to come with a clear agreement of this meeting. This is really the eleventh hour. And what I would like to see progress with is some concrete agreements on what will happen on the Irish issue. If that is solved, a lot can follow," said Maria Demertzis, Deputy Director of Bruegel.
In a letter to leaders ahead of the summit here in Salzburg, EU Council President Donald Tusk confirms a special Brexit summit in November is likely. October had been the target.
"We will discuss how to organise the final phase of the Brexit talks," says Tusk in the letter, "including the possibility of calling another European Council in November."
He adds: "Unfortunately, a no deal scenario is still quite possible. But if we all act responsibly, we can avoid a catastrophe."
On migration, leaders meet in Salzburg as the EU's criticised over its plans to boost Frontex, the EU border force. The Czech and Slovak leaders among those wanting cash to directly protect their own frontiers.
All this amid Italy's demands for Brussels to ease the load.
"I don't expect real progress in Salzburg. That's because the member states, EU states remain very very divided and some political parties are even increasing their consensus because of the migration crisis, so they maybe don't want to be too fast in solving it," Francesco Guarascio, Reuters EU Correspondent.
Last month, Italy threatened to withhold EU funds – if Brussels didn't step in and get migrants on the Diciotti rescue ship shared out across the bloc.
Deep divisions coming just months before crunch European elections.
"We are at a crossroads. I think that the elections will not really change completely the landscape, but the problem will remain and will need to be solved sometime," said Guarascio.
The soundtrack is set for a bumpy meeting in Salzburg – as the EU tries to find its feet at this time of political turbulence.