Brexit: UK's Raab back in Brussels for third week running
Comments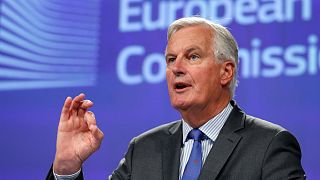 The UK's Dominic Raab's been back in Brussels for the third week running, as the clock ticks down to a Brexit deal deadline next month.
He has been locked in talks with EU negotiator Michel Barnier to try and resolve remaining sticking points.
But the atmosphere is tense after reports that Barnier had rubbished the UK government's plans. This also as one poll showed that support for Brexit is collapsing.
Over at the European parliament, anti-Brexit activists Devon for Europe were out in force.
"I would like to say to Dominic, could you please start telling the truth. They clearly don't understand how the EU works, we find it shocking. They need to realise that the best deal is the deal we have, it is completely bonkers," said activist Anthea Simonns.
The remaining negotiations over the coming weeks are set to be frenzied, to try and avoid a 'no deal' scenario.