Britain 'punching above its weight' - Russia's EU representative
Comments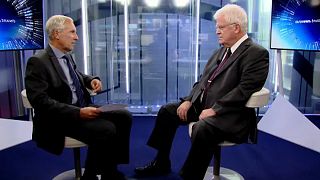 As London piles pressure on Brussels to turn up the heat on Moscow, Russia's representative to the EU has described Britain as "punching above its weight."
The UK wants the EU to match the latest US sanctions over an attack on a former Russian spy in Salisbury, in the UK, earlier this year.
Britain's foreign minister, Jeremy Hunt, made the call during a visit to Washington.
The West blames Moscow for the nerve agent attack. The Kremlin denies any involvement.
"Britain seems to be punching above its weight. A country which is on the verge of leaving the EU with or without a deal as we have seen earlier today, has been giving advice and instructions how to deal with Russia and now they have gone beyond that and are providing guidance to the United States," said the Russian representative, Vladimir Chizhov.
EU diplomats doubt there'll be more sanctions amid divisions in the bloc over relations with Moscow. 
**Click on the video above to watch the interview with Chizhov. **