Belgium court delays rapper extradition decision
Comments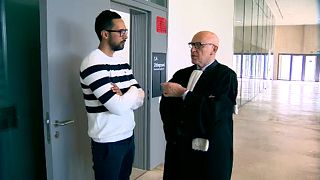 A controversial rapper - given a jail sentence in Spain, accused of glorifying terrorism and insulting the Crown - is not being extradited there for the time being.
Josep Miquel Arenas - better known as Valtonyc and currently in Belgium - has gone before a court in Ghent, where the decision on whether he will be sent to Spain was delayed until next month.
It was his first appearance, prosecutors must now look at the defence evidence.
"I'm happy because they've not accepted the automatic extradition and we're going to discuss it," said Arenas, "And we hope Belgium will prove that there is an independent justice, I believe it will prove it."
Valtónyc was sentenced to three and a half years in prison in Spain for threats, glorification of terrorism and insults to the Crown - and left for Belgium.
Now his defence lawyers, the same ones who represent Carles Puigdemont, allege that the particular terrorism charge does not exist in Belgium - while the one relating to the crown does.
Reporting from Ghent, Euronews' Ana Lazaro Bosch said: "While waiting for the Belgian justice decision, the question remains. Is this a crime, as the Spanish conviction says, or an attack on freedom of expression, as the defence claims?"