Refugee rocket scientist takes job hunt to London's streets | The Cube
Comments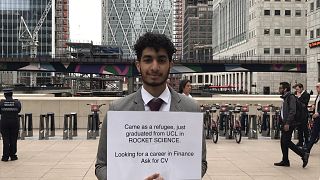 Copyright

Twitter/Mary Engleheart
A refugee and recent graduate of space engineering from a prestigious London university is gaining a lot of attention on social media for his unique approach to career hunting.
Meet Mohammed, a young man who says he came to Britain as a refugee, and recently graduated from University College London as a rocket scientist. He's looking for a job in finance, and is roaming the area around London's Canary Wharf with a poster advertising his availability.
The International Rescue Committee's Mary Engleheart said she met Mohammed as she exited the London Underground on Tuesday. Agreeing to help out, she tweeted a picture of Mohammed on his physical job hunt in Canary Wharf and asked other social media users to message her privately if they knew of any jobs of which he would be a perfect fit.
Euronews has reached out to both Engleheart and UCL for more on Mohammed.
Mohammed's references
At the time of writing, Engleheart's tweet has received almost 15,000 likes and more than 10,000 replies. Much of the reaction expresses support for Mohammed's endeavour.
One Twitter user, Dew, who claims to know Mohammed, gave a glowing reference for his friend.
"He is one of the smartest and most creative guys I know. He is not just intelligent but also has a great personality and charisma."
Another Twitter user, Frankfurt-based scientist Olaf Dreyer, asked Engleheart to forward Mohammed's CV in order to elevate his job hunt to an international scale.
Difficult job market for graduates
However, some involved in the conversation said Mohammed's story highlighted a serious point about the difficulties recent graduates face when trying to get on the career ladder after university.
While we wait for more updates on Mohammed's employment status, some potential employers have already been showing some interest. Chris Humphreys, a local government employee at Tower Hamlets Borough Council, reached out to Engleheart on Twitter, asking for a copy of Mohammed's CV. "I'll see if we can help," he wrote.