Tech giants remove Infowars content from its platforms in domino move | #TheCube
Comments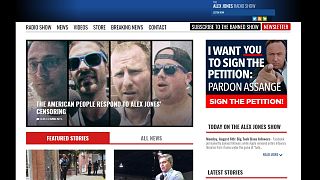 Major tech and social media companies such as Apple, Facebook, YouTube, and Spotify have made historic moves in the last week after removing content from their platforms related to US conspiracy theorist Alex Jones and his right wing Infowars network.
The Infowars website and radio show have been criticised for their comments numerous times, most notably when Jones, the host, said the 2012 Sandy Hook Elementary School shooting was a hoax.
The synchronised move on the companies' part to ban Jones and Infowars content came after recent violations of community standards, including posting "hate speech that attacks or dehumanizes others," Facebook said in a statement.
Statements made by Apple and YouTube echoed this sentiment.
An unexpected company to join the banning list is adult website YouPorn. In a statement tweeted by Buzzfeed News' Charlie Warzel, YouPorn Vice President Charlie Hughes said it is "joining in solidarity" with Facebook, YouTube, and Spotify "and is banning [Jones'] content as well."
Why now?
Social media platforms have received questions in the past about why they allow Jones and Infowars to continue posting content to their platforms. In July 2018, CNN's Oliver Darcy asked Facebook this directly, to which Facebook replied that "banning these pages would be contrary to the basic principles of free speech".
With Facebook now taking a different stance on the matter, Jones took to Twitter to claim he was a victim of censorship. 
Jones and Infowars Twitter accounts remain active. Twitter has not commented. 
Gab.ai, a social network popular with the far right, tweeted in response to the bans, saying Jones' content could still be found on its platform, "where free speech comes first".
Reactions to the move
Across social media, reactions to the bans have been mixed.
Documentary filmmaker Rebecca Morgan supported the ban and expressed surprise that it hadn't happened sooner.
However, other social media users said censorship of content was not the answer.
Some users suggested theories of their own, questioning the companies' motives for banning the accounts.
Human rights activist Ajamu Bakara said those celebrating the ban were "politically naive."
What do you think? Is this ban a good move in preventing the spread of hate speech and misleading information? Or does it defy freedom of expression? We want to hear your thoughts, using #TheCube.