No resolution in sight as authorities crackdown on protests in Bangladesh | The Cube
Comments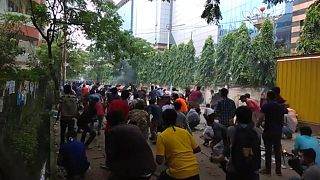 Copyright

Facebook/Al Emran Nomun
Thousands of students calling for stricter road safety laws in Bangladesh have brought the capital, Dhaka, to a halt in recent days.
The mass protests were sparked after two students were killed last week by a speeding bus in the capital. 
Road traffic accidents are not uncommon in Bangladesh — more than 10,000 people are reported to have been killed in road accidents each year.
But these demonstrations have turned ugly following repeated reports of protesters and journalists being arrested and attacked by police and unidentified groups.
The following video, captured by Bangladeshi civilian Al Emran Nomun, shows police firing tear gas to disperse protesters in Dhaka on Monday.
Speaking to Euronews, Nomun said the protest turned into a "battleground" after "police suddenly attacked the students". But while Nomun managed to get away from the scene unharmed, many of the students sustained injuries from the tear gas and rubber bullets that were fired into the crowd.
"This situation should not be happening just for demanding safe roads for all. The government should just accept the demand," he said.
Nomun's comments echoed a statement released by UNICEF Bangladesh on Sunday. The statement maintained that "students and young people have a legitimate right to speak out on issues of concern to them, including road safety issues, and to have their opinion heard without the threat of violence."
But it wasn't just the students who were subjected to violence in the protests. Activists, journalists and photojournalists covering the protesters were also a target. 
Footage shared on social media showed Associated Press photojournalist AM Ahad being beaten by an unidentified group, and photographer Shahidul Alam was arrested for comments he made about the demonstrations.
The Committee to Protect Journalists (CPJ) said in a tweet on Monday that when Alan appeared in court earlier that day, "he was unable to walk without assistance and told his friends he had been beaten bloody."
Kenneth Roth, the executive director of Human Rights Watch, slammed authorities who arrested students and journalists highlighting the road safety issue in Bangladesh instead of prosecuting their attackers.