Nicaraguan Government: 'President Ortega will not resign'
Comments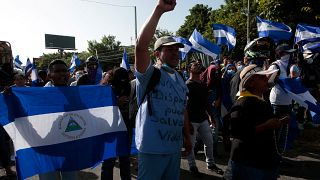 -
Copyright

REUTERS/Oswaldo Rivas
Continuing unrest in Nicaragua is leading to growing pressure on its government to find a solution to the troubles. In three months, more than 350 people have died in protests - the vast majority of them civilians.
Euronews spoke to Nicaragua's Minister of National Policies, Paul Oquist, who is in Brussels for a meeting between EU and Latin American governments.
Responding to criticism from the UN High Commissioner for Refugees, who has asked the Nicaraguan government to stop state violence and disarm pro-government groups, Mr Oquist accused the UN High Commissioner was guilty of inaccuracy. 
"This is based on nothing," Mr Oquist said. "It's based on local human rights sources, which have been partial for decades. These unproven generalizations are not helping the search for peace."
When asked about the possibility that President Ortega will resign and hold elections, the minister responded:
"That is a 'coup' position. Why should the president resign? Because someone put barricades on the street? That wont solve the problem. Why? Because the [pro-government] Sandinistas also know how to put barricades on the street. So if we're going to overthrow a government because of barricades, there will never be peace in Nicaragua."
Daniel Ortega was elected President in 2006, but he and his wife - who is Nicaragua's Vice President - have come under fire for what critics call their authoritarian tendencies.