The mother turned disability rights activist: Dana Migaliova is our seventh #Europeanhero
Comments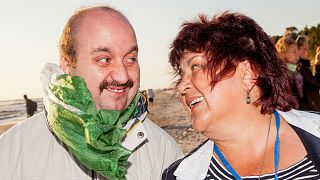 "Viltis" means "hope" in Lithuanian. When Lithuania was part of the former Soviet Union, this was a quality desperately needed by the families of people with intellectual disabilities.
"She has dedicated her life to improving the situation of people with intellectual disabilities and their parents in Lithuania and elsewhere."

Inclusion Europe
"Children with intellectual disabilities were brought up in institutions in hard conditions. If a disabled child fell ill, doctors did not prescribe proper medicine. A widespread opinion was that disabled children were born only to anti-social families. So, most parents didn't even go for a walk with their disabled child: they tried to hide them from society," explains Dana Migaliova.
Then, in 1989, psychiatrist Dainius Puras gathered a group of affected parents together and asked them what they wanted for their children.
The aspirations of Dana, as for the others, were simple: she wanted her son Paulius to live at home, to attend daycare centres, to be given proper care when he fell ill, and to go to school. Dr Puras suggested that the parents form an organisation to make these things happen.
Out of these straightforward hopes, Viltis was born and, from the original nine founding members, one of whom was Dana Migaliova, its membership has grown to 52 today.
Meeting needs
Dana Migaliova talks passionately about "realising dreams". For her this is not about giving people extraordinary experiences, but, much more simply, about treating them as people. She wants people with intellectual disabilities to be fully integrated and accepted into society, and to be able to appear in public. She wants their rights and freedoms to be acknowledged, respected and defended.
This is something Dana Migaliova has seen happen for her son who, thanks to the support from Viltis, remained at home and was able to attend school as a child.
Viltis also calls for the sort of additional support that in some countries is taken for granted. "People with high support needs require personal assistants, and respite care is needed for parents who need a break. We need an improved educational system, and the implementation of de-institutionalisation reform," Dana explains.
These are all things that are still being fought for in Lithuania.
"People with disabilities are an integral part of our society"
Dana Migaliova's son is now nearly 40 and attends a daycare centre, allowing her to work. This change has not dampened her passion for her cause, however. Instead, she marvels at the changes that have taken place since the establishment of Viltis: "now people with intellectual disabilities visit public places - shops, cafes, cinemas, and parks." she observes. "These are big achievements, but we cannot stop there".
For a woman who says that her greatest happiness is "to help people, and families", she is unlikely to stop any time soon.
Easy to read?
This article has also been produced in an easy-to-read format by Inclusion Europe, for whom Dana Migaliova is a board member. You can find it here.
Dana Migaliova was nominated as a #Europeanhero by Angelika Hild from Inclusion Europe, for whom she was an inclusion hero earlier this year.