Could Brexit be called off? 'Who knows' says EU chief
Comments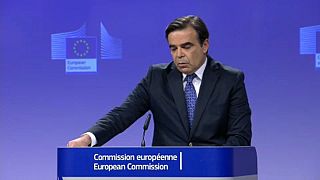 Reacting to the resignations of David Davis and Boris Johnson in the UK, the European Council's president is raising the idea that Brexit might be called off altogether.
"I can only regret that the idea of Brexit has not left with Davis and Johnson. But...who knows?" tweeted Donald Tusk.
With the clock ticking for Britain and the EU to avoid a no-deal Brexit, the European Commission is stressing that it's business as usual with crisis-hit PM Theresa May.
"We will continue to negotiate in goodwill, bonafide, with Prime Minister May and the UK government negotiator in order to reach a deal. We have a job to do. It is an important job," said European Commission spokesman Margaritis Schinas.
"We are determined to do it and we hope that we will have an agreement within the time frame that has been set for this."
But amid all the political turbulence, that's now being called into doubt - as May struggles to overcome divisions and to convince her critics that she's not handing too much power to the EU.