Euronews hits the road in Giuseppe Conte's Italy
Comments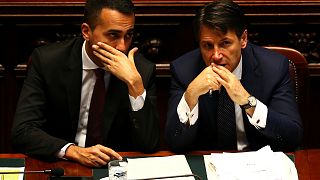 Euronews' Elena Cavallone and Bryan Carter embarked on a journey across Italy to take the political pulse of a country that has gone through one of its worst leadership crisis in decades.
They landed in Naples a few days after the new Italian government led by Giuseppe Conte was sworn in. Conte was chosen as a compromise candidate to lead a coalition government made up of members of the anti-establishment Five-Star Movement and the far-right League.
The populist government is seen by some as a threat to the very fabric of the European Union, as it is the first time one of its founding members is led by two openly eurosceptic parties.
From Naples in the Italian south, all the way up to Milan in the north, Carter and Cavallone speak to Italians of every walk-of-life listening to their hopes, frustrations and aspirations, trying to understand how Italy got to this point, and what the future holds for it.